Commercial Roof Repair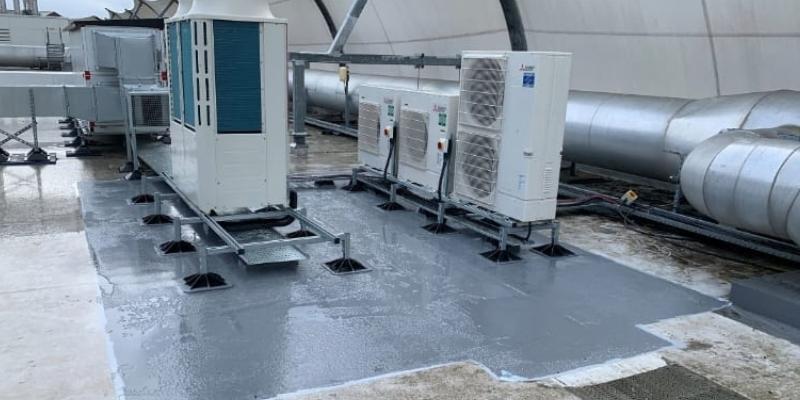 We are a roofing contractor who provide commercial roof repair services across London and the UK. This includes everything from the installation of new flat roofing systems to roof repairs, liquid overlays and a maintenance service. We are fully accredited in a number of industrial and commercial roof systems. Our experienced team of highly qualified operatives cover all of London and the South East, South West, East and West Midlands. If you would like a quotation or any information on commercial roofing services please get in touch using our contact form or call us now on 01277 375 511.
Permanent Repair Of A Commercial Felt Roof
Patches of felt can be torched over damaged areas of your roof to resolve any commercial roofing issues. A skilled roofer will be able to identify the damaged areas of the roof which need repairing and cover just these areas using the process explained above. Before undergoing a permanent repair for your felt roof, it is important to carefully asses whether the previous felt used on your commercial building is in a good enough state to withstand the work. An alternative to using a felt patch repair is to use a cold applied liquid repair. Circumstances where liquid would be a more cost effective solution would be if there was damage to the seams. Seams can break down over time due to natural light which contains UV rays effecting the bond between the adjacent felt sheet. This can cause water damage to the building below. If there are suspected leaks caused by a seam it is often a more cost effective solution to encapsulate the whole area with a liquid coating.
What Are The Common Problems Found On A Commercial Roofs Which Use Asphalt?
Bumps and blisters are common problems to find on an asphalt flat roof. Bumps should be easily identifiable as any raised areas across the flat roof's surface. Bumps form when moisture becomes trapped underneath the mastic asphalts surface. If bumps are identified it is best to deal with them promptly to prevent any further issues. Blisters are another common problem. Blisters occur when multiple bumps are on the asphalt flat roof. Splits and cracks are other common problems seen on asphalt roofs. These are problems which need to be fixed as soon as possible as water ingress issues are extremely likely to follow as the integrity of the roofing system is compromised. It is strongly advised, to contact professional commercial roofing contractors who specialise in asphalt, as soon as you identify any cracks or splits on an asphalt surface.
How To Repair An Asphalt Roof
An asphalt roof benefits from being able to be repaired in most situations (this blog will explain whether you need to repair or replace an asphalt roof). This is one of the reasons an asphalt roof is known for it's longevity. The way in which an asphalt roof is normally repaired is using a patch repair. Here the hot poultice method is used and the defective area is cut out and replaced with new asphalt. By clicking the following link you can explore asphalt roof repair in more detail: https://www.rjevansroofing.com/asphalt-roof-repairs/.
How To Repair A Liquid Roof
Roof maintenance for commercial premises waterproofed in a liquid system is a straightforward process. This helps maximise the longevity of the roof and minimise any disruption. In fact, as liquid systems are cold applied no downtime need be endured. Most repairs will require the removal of the faulty area and to re coat the area with a new liquid coating.
How To Repair A Metal Roof
Metal roofing systems can be found on both industrial and commercial buildings. In the UK it is the most common roof covering for industrial roofing. The main problem you get with metal roofs is corrosion (cut edge treatment is the most common industrial roof repair). This happens where the sheets for metal roofs are cut to size. This leaves the plastisol (1) edge exposed and over time it will corrode up the cladding sheets. If this problem is untreated on an industrial roof, leaking will occur and possible the need to replace metal sheets. The way to treat cut edge corrosion on industrial roofs is to use a high pressure spray to clean down the surface. Then remove any lose paint and corrosion with a hand grinder. Tape all the joints in the roof with butyl tape and cover all the screws. Use a sealant to fill any gaps over 2mm in diameter. Treat the cut edge corrosion with a a sealant such as one provided by Alphateq Waterproofing. Then cover the all of the metal roof sheets with an appropriate coating. Once this repair work is complete, if properly maintained the roof can last another 10 to 25 years.
Using Repairs To Save A Full Roof Replacement
In many circumstances flat roofs can be saved from being replaced by using the correct repair method. In most cases the most cost effective way to fix damaged flat roofs is to use a liquid overlay. This is where a liquid coating is applied over the existing roofing systems. The major benefit of this is a liquid system encapsulates the existing roof and can fit perfectly around complex details. For example a roof with many leaks from areas around the roof lights will now benefit from a water tight membrane.
An other circumstance where a liquid overlay would be beneficial is on corrugated roofing which is suffering from corrosion. The whole roof (all the cladding panels) can be re coated with a pu liquid which will give many years extra service life. Older buildings which have an asbestos roof (2) can also be encapsulated with a liquid coating. The roof just needs to be cleaned down making sure no contaminated water enters the drainage system. Then the roof is prepared, primed and coated to give a complete encapsulation.
As you can see in many cases, roofs which seems like they need to be replaced can be repaired in a cost effective manner by applying a liquid overlay. This makes it always worthwhile to get a roof survey from expert commercial roofing contractors before committing to the large expense of a completely new roof.
Get In Touch About Commercial Roofing Repairs Today
If you would like a quotation or any information on commercial roof repairs or a future roofing project please get in touch with us through our contact form or call us now on 01277 375 511. One of our friendly team will be happy to help.
1