GRP Roofing (Fibreglass Roof Specialists)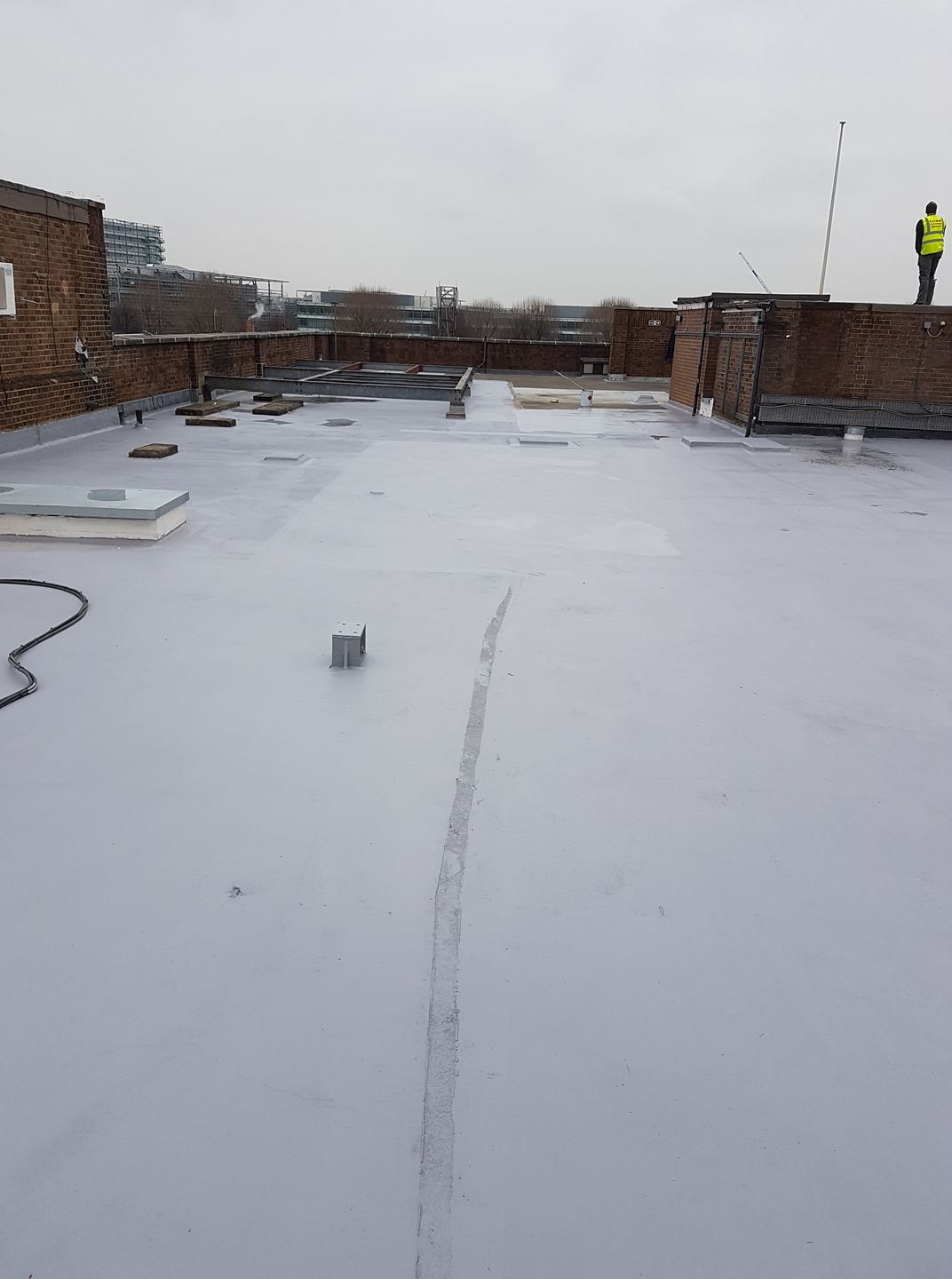 We provide a full range of GRP roofing services. This includes GRP flat roofing and fibreglass roof repairs. Our highly-experienced team covers all of London and the South of England, and are fully accredited roofers.
If you would like a quotation or any information on GRP Roofing please get in touch with us or call us now on 01277 375 511.
What is a Fibreglass Roofing System?
A Fibreglass (GRP) Roofing system is a seamless flat roofing system which has been in use for over 30 years.
It can be applied to virtually any roof build up. This includes sloped roofs, dormers, parapet wall details and mansards. Some GRP systems can even be used as an overlay system with the correct primer.
A UV Protection coating can be applied to the system. Modern systems such as Polyroof now make GRP Roofing an even more attractive choice as a roofing system. These systems benefit from being self terminating, having built in UV protection and the ability to cope with complex detailing.
GRP Flat Roofing has become a very popular method of roofing in the UK of the past 20 years or so due to the slick, polished look it gives as well as the fact it is easy to maintain. It is a fully integrated continuous system where all the components are designed to work in unison.
GRP stands for Glass Reinforced Polyester which is a composite material that is made by using fine fibres of glass to strengthen plastic. The method and materials used in the making of this roof have led to it often being referred to as either 'GRP Flat Roof' or 'Fibreglass Flat Roof'.
Below we explore Fibreglass roofing in detail; we will look at how it is laid, the different durability options available, how cost is calculated, how to maintain your GRP Flat Roof and the potential problems that occur with fibreglass roofing.
The Benefits of GRP (Fibreglass) Flat Roofing Systems
• Fibreglass flat roofing systems are BBA Certified. This means it is a roofing system which has passed a rigorous testing process.
• They are excellent waterproofing solutions for all types of domestic and commercial properties.
• GRP Roofing Systems come with product and workmanship guarantees of up to 40 years.
• Proven performance with over a million square metres fitted over the last 20 years.
• One of the most versatile flat roof materials which can be used in a range of situations including: new build, replacement roofs, listed or iconic buildings.
• Environmentally sustainable by design and safe to install.
• No heat required.
• Rated A/A+ in the generic BRE Green Guide1.
• Fire Retardant and completely UV resistant
• Over 1,000 different combinations of colours, and specialist finishes available.
• Highly Rigid Roofing System
• Systems such as Ultraflex can cope with Irregular Shapes and have Superior Flexibility compared to other GRP Roofing Systems.
• Ideal for Roof Gardens (Brown and Green Roofs) as are anti-root and all joints are seamless.
How Versatile is Fibreglass Flat Roofing?
GRP flat roofing is an extremely versatile roofing system that can be applied to almost any type of roof build up. They are also suitable for vertical detailing like attics, dormers, sloped roofs or parapet walls. Further to this, its robustness makes it suitable to be used for pavements and balconies. It is also a roofing system that comes with a BBA certification- to achieve this certificate roofs have to go through a rigorous testing process.
Fibreglass roofing can also be used to roof water contaminants that can sometimes be found on roof gardens. They are versatile enough to be used on mud roofs or grass roofs and give a completely seamless finish.
Fibreglass manufactures will have different specifications for their build up systems, with the right primer come can be used as an overlay system that can be put onto customers current roofing systems including mastic asphalt, RBA felt and concrete. In these circumstance with the added details of flashing and wall reinforcement the system looks very appealing.
GRP Flat Roofs are easy to maintain
The best way to clean and maintain a GRP Flat roof is by using soap and water, alternatively you could use a brush to sweep it clean or a low-pressure jet wash.
What Is The Cost Of A GRP Roof?
One of the reasons fibreglass roofing is so popular is because of it is both looks appealing and is also extremely durable. GRP Flat roof construction is an effective, simple and safe method of roofing that comes with a lengthy guarantee.
There are many factors influencing the cost of a fibre glass roof, for example the size of the roof, the roof specifications, the volume of build-up and whether the roof requires any finishing touches. The easiest way to understand how these factors affect pricing is my exploring how a fibreglass roof is constructed.
GRP Flat Roof Construction Details
The Process for a New Build Roof with a 15-20 Year Guarantee:
The first step is to install a 18mm OSB Board onto the rafters of the roof or to the current roof surface if re-roofing.
Once this is done trims and flashing will be installed and depending on whether the OSB board is T and G or not a strap will need to be secured over every other board joint.
Now the roofers will use a 2part resin/450g matting (CSM) with a topcoat UV to cover the roof. The costing for this would be about £65 to £90 per square meter depending on how large the area is being covered.
Another fact to consider whilst calculating the cost of a fibreglass roof is whether the roof has any insulation. If your roof doesn't have any insulation the roofs build up changes. It will need to have a 9mm sub-deck followed by a VCL (vapour control check layer), depending on the specification the roof will need counter battens to aid air flow and then a 120mm insulation rigid. The overall cost for a roof build-up is between £45- £60 per square metre.
Looking at the cost from beam to roof finish (minus any soffits, fascia or gutters) the typical cost of for fibreglass flat roofs is between £110 - £150 per square metre.
It is worth noting that if you choose a more complex detailing or add specialist finishes on certain areas, for example a balcony, the cost will increase.
A Longer Guarantee Will Increase The Price Of The Roof
If you decide to opt for a longer life guarantee for roof this will in turn increase the price. For example, if you decide to choose a 30-year roof guarantee this will mean the roofers will apply an extra coat of resin over the three part build up. The price of this additional coating will cost between £10 to £15 per square metre.
As mentioned above you may want extra detailing or specialist finishes on areas of your roof, which again will affect the pricing. If you wanted to add balcony detailing roofers will need to use a higher-grade chop stranded matting that is embedded into the resin, to allow for the foot fall this part of the roof will endure.
What is chop stranded matting (CSM)?
It is a traction coating that is typically 650g thicker than standard CSM2. It has to be thicker as more resin is need to be soaked in by the matting. The higher grade CSM is then left to cure before a UV protection layer is added and finally traction chippings are spread over the wet area.
Sometimes once the roofing area has dried it may be that it needs an additional UV protection layer added, this would be an additional cost of £8-15 per square meter.
How is the process different with a 40-year guarantee?
If you are looking for a 40-year guarantee on your Fibreglass roof the process explored above will require an extra three layers. These layers consist of a further layer of resin followed by a CSM layer in the middle and a final layer of resin.
The cost of these extra layers is between £12- £20 per square metre added to the cost for a 20-25-year GRP flat roofing system price.
Other additional costs for GRP Flat Roofing on Roofs with a Longer Guarantee:
Other additional cost that come with longer guarantees is the cost for cleaning or stripping of any pre-existing waterproof coverings. The cost of cleaning and stripping is normally around £7 to £15 per square meter for each water proof later. Of course, other things will factor in such as the access to the roof when any debris is removed from area.
Looking at the costing for a GRP Flat Roof in comparison to other roofing systems, and from the point of view of cost per year guarantee, I feel it proves itself to be a very competitive roof installation within the roofing market.
Further costing help:
Should you want to investigate fibreglass roofing costs further on a square meter basis please do have a look at our GRP Roofing Cost Calculator as this can really help you with working out a price for your roof.
Summary of key factors that influence the pricing of a Fibreglass Flat Roof:
So, to summarise the key elements that will impact the price of a Fibreglass Flat Roof are:
• The size of your roof
• The specification you are going for.
• The level of build-up you require.
• The complexity of your installation.
• The length of guarantee you require.
Why Choose RJ Evans For GRP Roofing
• Experienced team of fully accredited GRP Roofing Specialists. We have operatives with more than 40 years' experience.
• We provide a range of FREE quotations and solutions for all projects.
• Insurance Backed Guarantees.
• Excellent Customer Support throughout project.
• Rated 5 out of 5 by our previous customers.
Get In Touch With RJ Evans Today
If you would like a quotation or any information on a fibreglass flat roof installation, survey or repair please get in touch with us through our contact form or call us now on 01277 375 511. One of our friendly team will be delighted to help you.
1