Asphalt Roofing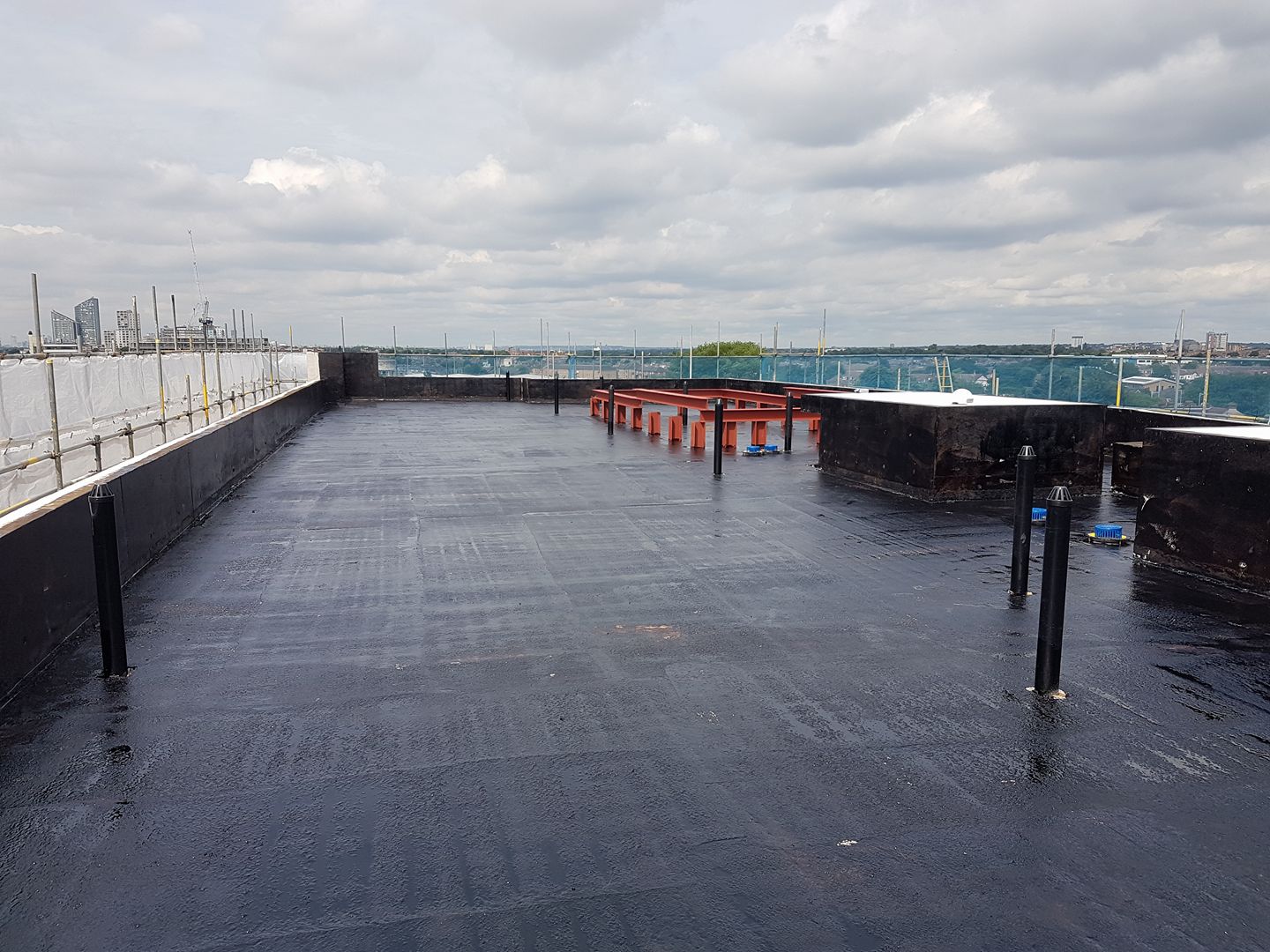 At RJ Evans, we have specialist asphalt roofing contractors and can provide a full range of asphalt roofing services. This ranges from the installation of a new asphalt flat roof to all types of asphalt roof repairs.
Our team of asphalt roofing specialists consists of individuals with more than 40 years' experience. This team have provided asphalt roofing services all over London and worked on many prestigious asphalt projects across the UK including works at the Tower of London and Buckingham Palace.
Asphalt is a versatile time tested roofing system which can be applied to a range of substrates including metal, concrete and timber.
If you would like a free no obligation quotation or any information on Asphalt Roofing please contact us or call us now on 01277 375 511.
The Benefits of Asphalt Roofing
Mastic Asphalt is one of the best waterproofing materials on the market. It is time tested and carbon zero rated. No other waterproofing product can boast a carbon zero rating close to this. This is what makes asphalt roofing such a great flat roofing material. The versatility and effectiveness of this material as a waterproofing solution is evident from the multitude of applications it is used for. This includes, car parks, flooring, tanking and balconies.
Laying mastic asphalt roofing can be a flame free process if you use an asphalt mixer. In addition, mastic asphalt is a totally recyclable material meaning it is an environmentally friendly choice for a flat roof waterproofing system.
The hot molten liquid of mastic asphalt can be laid to perfectly mould around all manner of tight awkward spaces on a flat roof such as piping and upstands. This capability to handle complex detailing makes an asphalt roof especially attractive.
Aggregates can also be added to asphalt roofing in order to provide different properties such as extra traction to prevent slipping in wet conditions. Or extra hardness to withstand the demands of a service deck, this is achieved with the addition of 30% grit to the mix.
The operatives who install asphalt roofing are called spreaders. To be spreader you are required to complete a minimum of a 2 year NVQ, this is a far longer period than the week-long courses which are currently available to start working on other flat roofing systems. This means when you get an asphalt roof you can be safe in the knowledge you are getting a true craftsman working on your roof.
Another benefit of asphalt roofing is the introduction of new technology from IKO Permascreed. This has made it possible to eliminate the long waiting time for the screed to cure before laying can commence. This is a huge improvement on the 7 day waiting time for a sand and cement screed to cure. As well as providing a stable base for the mastic asphalt system, Permascreed is also designed to provide drainage falls. This screed can be left without rainwater ingression into the system. And there is no need for core venting to draw out trapped water which is the case when other screeds are used.
Solar Reflective Paint for Asphalt Roofing
Solar reflective paint is always specified for asphalt roofing. This disperses heat from the roof and provides a decorative finish to the roofing system. In the picture below of the asphalt roof installation we carried out. You can see below the light grey colour of the UV solar reflective paint applied to the flat roof at the end of the project.
A Completed Asphalt Roofing Project in London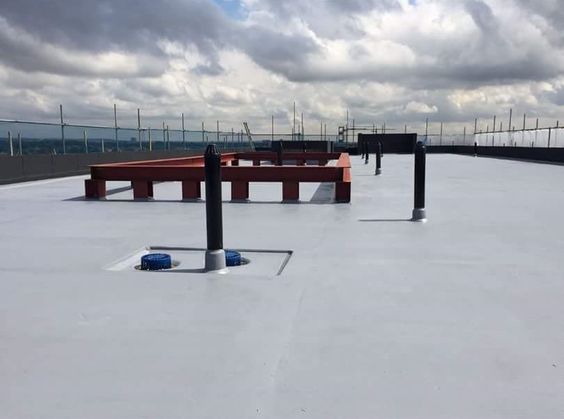 Typical Asphalt Roofing Specifications
Mastic asphalt roofing specifications can include two or three layers. These specifications may consist of different types of asphalt being combined. An example of this would be in a car park where roofing grade asphalt is used in unison with paving grade asphalt.
Roofing Grade Asphalt
Normally two coats of type R988 roofing asphalt is applied in two coats of 10mm. This gives a nominal thickness of 20mm. For extra security and protection an additional 10mm coat can be applied. This would bring the thickness to 30mm. This additional coat would be strongly recommended when the area will be inaccessible for roof inspection and repair work.
Roofing grade specifications are capable of withstanding pedestrian traffic for maintenance but will not be able to tolerate heavier demands. This includes stiletto heels, tables and chairs.
If the area is to be used for a terrace or a balcony an additional 10% - 15% grit would be required to make a more resistant surface. The way in which this will be done is with an initial 10mm coat of roofing asphalt which may contain extra grit. And then a second coat of 15mm grit reinforced roofing.
To endure heavy foot traffic, it is advisable to provide the asphalt roofing with suitable protection. There are two ways in which this can be done, the first is to lay suitable paving on top of the roofing asphalt. And the alternative is to apply paving asphalt on top of the roofing grade asphalt.
Both methods will give the balcony or terrace area the ability to withstand heavy foot traffic.
This coat is what will give the terrace or balcony the capability of withstanding heavier use.
*The first layer of roofing asphalt will be laid upon sheathing felt.
Sloping Surfaces on an Asphalt Roof
Sheathing felt can be used to provide separation on insulated and uninsulated roofs. If the roof is uninsulated separation can be provided up to a slope of 10 degrees. And if the roof is insulated, separation can be provided up to a slope of 5 degrees. If the slope is less than the angles mentioned previously, the roof can be treated as a normal flat roof.
However, if the angle is steeper laying asphalt upon the sheathing felt will cause problems such as slumping and creeping (this is where the as asphalt starts to slide down the slope due to the forces of gravity). If this is the case it is necessary to treat the asphalt work as if it were being applied to a vertical surface.
If the base is a concrete deck, a full bond to concrete is required. To achieve this the concrete should be lightly tamped or wood float finished.
If the base is a sloping timber deck. A firm attachment is achieved by applying the asphalt to expanded metal lathing. This metal lathing is fixed on top of sheathing felt and securely fixed to timber at 150mm centres.
The recommendation of a 5-degree slope for an insulated roof. And a 10-degree slope for an uninsulated roof are arbitrary numbers. In certain situations, a lesser or greater angle may be necessary. For example, a short slope in a shaded area may tolerate a greater slope whereas a long slope which is south facing will require a smaller slope.
Paving Grade Asphalt
As mentioned earlier paving grade asphalt can be added on top of two coats of roofing grade asphalt to provide an area with increase durability. The decision on whether to use a finishing coat of paving grade asphalt will be based upon the weight and type of traffic the asphalt will need to withstand.
In general, as the aggregate content of the asphalt increases, so does the ability of the asphalt to bear load. A natural consequence of an increase in aggregate requires an increase in asphalt to accommodate it. As a rule, for the percentage of aggregate added the amount of asphalt required should be that percentage in millimetres. So, for 30% aggregate, 30mm of asphalt will be required. This rule is not steadfast and is only a loose guide.
Paving Grade Asphalt for Podia and Public Access Decks
The absolute minimum thickness for paving asphalt is 20mm. This thickness of asphalt is suitable for podia and public access decks. When preparing asphalt for this type of application it will be laid on top of a 20mm of roofing grade asphalt. This would consist of two 10mm layers. The paving asphalt will be 25% aggregate content with an asphalt thickness of between 20-25mm. The aggregate will consist of grit which is 3mm in diameter.
Paving Grade Asphalt Roofing
In most situations. 30mm is the desired thickness of paving grade asphalt for roofs designed to accept light vehicle traffic and roof top car parking. The aggregate content in this instance will be 30%. If the specifier increases the thickness to 35mm, the aggregate content will go up to 35%.
The standard build-up for asphalt roofing to withstand light vehicle traffic and roof top car parking will be as follows:
1) A Glass Fibre Tissue Separating Layer
2) 20mm of roofing grade asphalt (2, 10mm layers of asphalt)
3) 30-35mm paving grade asphalt (with 30-35% aggregate content)
Paving Grade Asphalt for Service Decks
Service decks commonly found on the roof above retail space will require a 40mm coating of paving grade asphalt laid over two 10mm coats of roofing grade asphalt. This will give a combined total of 60mm in thickness. A total of 20mm in roofing grade asphalt and a total of 40mm in paving grade asphalt. The reason for this thickness being required is to endure the constant use of heavy vehicles such as fork lift trucks and lorries.
For 40mm thick paving grade asphalt the aggregate content will be 40%. However, in most cases there is no benefit of increasing the aggregate content beyond 40%.
The reason for this is paving asphalt is always likely to suffer some indentation and tyre marking under the wheels of parked vehicles. And the only way to prevent this would be to increase the aggregate content over 40%.
However, this increase in aggregate content creates other problems. Firstly, such a high content of aggregate will make the formation of bay joints extremely difficult. And secondly, this increase in aggregate content will significantly increase the risk of cracking.
Therefore, 40mm paving grade asphalt with 40% aggregate content is the best compromise for most service decks.
To reduce the risk of indentation pre-coated chipping can be scattered across the surface of the service deck then rolled in. The added benefit of this will be additional traction for the vehicles which operate on the service deck.
The other way in which traction and anti-skid properties can be added to the surface deck include the use of surface dressings which are epoxy resins combined with skid resistant aggregates such as fine grit.
The standard build-up on asphalt roofing to be used as a service deck, with the requirement of enduring heavy traffic:
1) A Glass Fibre Tissue Separating Layer
2) 20mm of roofing grade asphalt (2, 10mm layers)
3) 40mm paving grade asphalt (with 40% aggregate content)
4) Optional application of a surface dressing to add traction to surface.
Service Deck Vehicle Access Ramps
Service deck vehicle access ramps must endure extreme down slop forces due to heavy vehicle traction and braking as they descend from the roof. Due to these forces the mastic asphalt must be bound directly to the concrete surface of the ramp. The concrete on this ramp must have no joints and have tamp marks going across. The reason for this is to provide a key for the mastic asphalt to bind to.
Before work commences it is important to make sure the concrete is as dry as possible. Then prior to the first coat of mastic asphalt being applied to the concrete a limited amount of primer can be applied. It is important to note no sheathing felt is used on the vehicle access ramp of a service deck.
This first coat is roofing grade asphalt and will be to a thickness of 15mm. The next coat will be a 40mm coat of paving grade asphalt. The aggregate content of this paving grade asphalt will be 40%. The reason for the coat being 40mm thick is because of the heavy traffic the vehicle access ramp will endure as lorries travel up to the service deck.
The standard build-up for asphalt vehicle access ramps leading to roofs to be used as service decks:
1) Concrete ramp with tamp marks going across the slope
2) Limited high bond primer
3) 15mm of roofing grade mastic asphalt
4) 40mm of paving grade mastic asphalt with 40% aggregate content
Frequently Asked Questions about Asphalt Roofing
Is an Asphalt Roof Good?
An asphalt roof is good for anyone who wants a seamless, carbon zero rated roofing system which has stood for test of time. Mastic asphalt roofing has proven to be the 'King of Waterproofing' over many decades.
What is Mastic Asphalt Roofing?
Mastic asphalt roofing is the use of mastic asphalt to waterproof a roof. Asphalt roofing is environmentally friendly and leaves a roof with an aesthetically pleasing seamless finish.
How Many Years Does an Asphalt Roof Last?
An asphalt roof can last in excess of 50 years if it is maintained properly and installed by skilled craftsmen. Of course the lifetime of an asphalt roof will differ from roof to roof depending on the stress put upon it. You can see a video on our youtube channel inspecting some asphalt roofing 50 years later. To view this video click here.
Why is Mastic Asphalt Used on Flat Roofs?
Mastic asphalt is used on flat roofs as it has excellent waterproofing properties, is extremely durable and is environmentally friendly.
Why Choose RJ Evans as your Asphalt Roofing Contractors
• We have our own mixer this means a flame free laying of the mastic asphalt roofing. Better consistency in the asphalt mixture meaning a more efficient installation process with a better overall finish.
• Vastly experienced team. We have operatives with more than 40 years' experience.
• We provide a range of FREE quotations and solutions for all projects.
• Insurance Backed Guarantees.
• Excellent Customer Support throughout project.
• Rated 5 out of 5 from our previous customers.
Get in Touch with RJ Evans Today
If you would like RJ Evans to provide a free no obligation quotation or any information related to asphalt roofing please contact us or call us now on 01277 375 511.
An Asphalt Roofing Survey carried out by RJ Evans