Commercial Roofing and Repair Services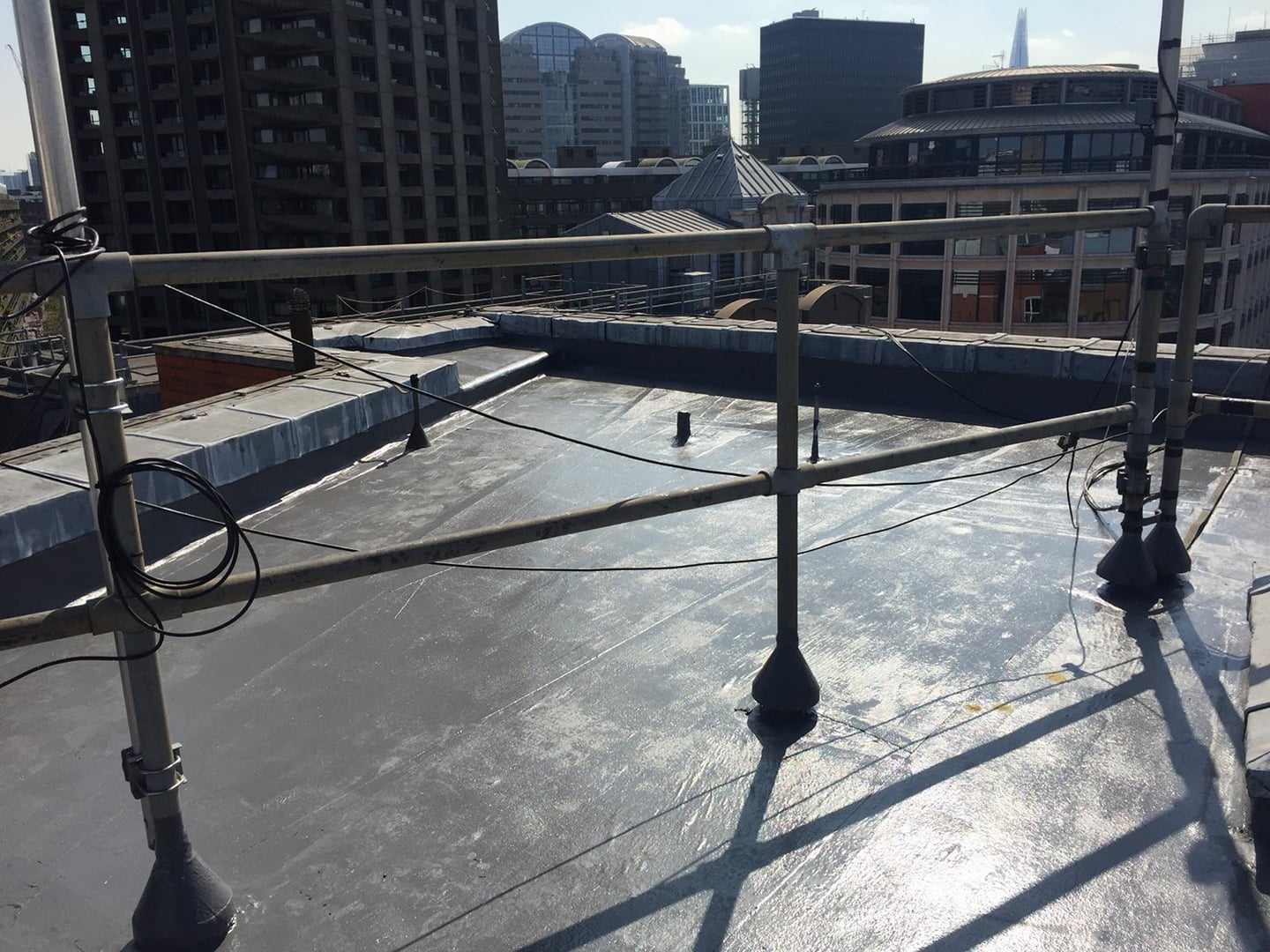 We provide a full range of commercial roofing services. This includes everything from the installation of new flat roofing systems to roof repairs, liquid overlays and a maintenance service. We are fully accredited in a number of flat roofing systems including GRP, EPDM Rubber, Felt, Liquid and Mastic Asphalt. Our highly-experienced team covers all of London and the South of England, and are fully accredited roofing specialists.
If you would like a quotation or any information on commercial roofing services please get in touch with us or call us now on 01277 375 511.
Commercial Roofing Specialists
RJ Evans are specialists in commercial roofing services. We have expertise in various sectors including, education, healthcare, retail, heritage and industrial roofing projects.
We have expertise in all areas of roofing and pride ourselves on finding the most cost effective solution for every project. We can do this due to our vast roofing knowledge and extensive range of industry leading products.
Industry Leading Products for Commercial Flat Roofs
At RJ Evans, we are not affiliated with any specific roofing product. This means we will not be biased towards any product for our own financial gain. All we care about is advising which product is most suitable for your specific project.
Our extensive product range includes:
Green and Brown Roofing Systems
Including:
Bauder and Alumasc.
Mastic Asphalt Systems
Including:
Guaranteed and IKO.
GRP Roofing Systems
Including:
Ultraflex and Top Seal.
Rubber Roofing Systems
Including:
Resitrix, Rubber Bond Fleece Back Single Ply, Firestone, Classic Bond, Flex-R and Duo Ply.
Liquid Roofing Systems
Including:
Alphateq, Langley Roofing Systems, Hydrostop, Topseal, Bailey, Triflex, LRS, Kemper, BMI icopal, Cromar Building Products, Scott Bader, Gaco Western, Polyroof, Res-Tec Roofing Systems, Desmopol and Ultra Flex.
Felt Roofing Systems
Including:
Langley, Bauder, Proteus, Signature, Baileys, IKO and Rose.
Flat Roofing Systems Are Great For Commercial Buildings
One of the aspects that makes a flat roofing system so appealing for commercial buildings is the relatively low installation cost due to the fact that only the lip of the roof can be seen from the pavement. Also the installation process is safer and the end result is a smart, aesthetically pleasing finish. Further to this, once a flat roof has been installed they are easy to maintain. Any repair work can be carried out quickly with minimal disruption.
What Are The Difference Types Of Systems For Commercial Flat Roofs?
There are various types of flat roofing solutions available for commercial buildings. These include; RBM felt (reinforced bituminous membrane), mastic asphalt, liquid, fibreglass and EPDM rubber roofing.
Felt For Commercial Roofing
A felt roof is a fantastic option for commercial roofing due to the adaptability of the material to be moulded unproblematically onto any style and sized roofing. Further to this it comes in a range of colours as well as a protective reflective UV layer which can be added at the end. This UV layer works to reflect the sun rays which over turn can cause damage to the roofs surface. Another bonus with a felt roof is that it can withstand heavy footfall and a felt roofing system typically has a 20-year life span before it runs into any problems.
What Is The Process Of Laying A Felt Roof?
The modern method of laying a felt roof varies greatly from the older methods and produces a sturdier and hard-wearing roof. The felt for the roof comes in rolls and is then moulded to the roofs structure by using a large blow torch. The process normally involves a roofing contractor use felt that contains a 3-layer system. Firstly, a perforated underlay1 is used, next a 2mm underlay is added and finally a thick 4-5 mm cap sheet (which is a felt layer) Further to this, each layer is strengthened with strong polyester weave that has been inserted into the middle of the felt increasing the roof's robustness. Roofers also strengthen the roof by adding the different layers using a half lap manner. This is where the joints are all as far away from each other as possible.
Permanent Repair Of A Commercial Felt Roof
Patches of felt can be torched over problematic areas of you roof to resolve any roofing issues and restore your roofing system. Workers will be able to identify the area or areas of the roof that need repairing and cover just these areas using the process explained above. Before undergoing a permanent repair for your felt roof, it is important to carefully asses whether the previous felt used on your commercial roof is in a good enough state to withstand the work.
Asphalt For Commercial Roofing
Asphalt roofing is a great choice for commercial roofing. It is not only reliable, but also hardwearing and easy to mould. It has a proven track record and is often referred to as 'The King Of Waterproofing". It is perfect for complex detailing and can be applied to a range of substrates, including wood, metal and concrete. Additionally, asphalt roof maintenance is straightforward making it a stand out option for commercial roofing installations.
It is vital with asphalt roofing to make sure the commercial roofing contractor you use is experienced in the use of mastic asphalt. Asphalt is a highly skilled trade which requires an extensive apprenticeship. If you ensure you hire a roofing contractor with the appropriate asphalt credentials such as being members of 'The Mastic Asphalt Council'2 you can be assured of quality workmanship.
What Is The Process Of Laying An Asphalt Roof?
Asphalt roofing requires a specialist mixer to heat asphalt blocks to a temperature of 220 degrees Fahrenheit. Once heated the asphalt becomes malleable and can be poured onto the roof's substrate. Roofers work in teams with one pouring the molten asphalt and the other spreading it with a float. Once spread across the roofs surface it is sand rubbed, then left to cool off and become hard. Once finished it is often painted with solar reflective paint to protect the asphalt from the UV rays. This also assists in extending the lifespan of flat roofs in mastic asphalt.
What Are The Common Problems Found On A Commercial Asphalt Flat Roof?
Bumps and blisters are common problems to find on an asphalt flat roof. Bumps should be easily identifiable as any raised areas across the flat roof's surface. Bumps form when moisture becomes trapped underneath the mastic asphalts surface. If bumps are identified it is best to deal with them promptly to prevent any further issues. Blisters are another common problem. Blisters occur when multiple bumps are on the asphalt flat roof. Splits and cracks are other common problems seen on asphalt roofs. These are problems which need to be fixed as soon as possible as water ingress issues are extremely likely to follow as the integrity of the roofing system is compromised. It is strongly advised, to contact professional commercial roofing contractors who specialise in asphalt, as soon as you identify any cracks or splits on an asphalt surface.
How To Repair An Asphalt Roof
An asphalt roof benefits from being able to be repaired in most situations (this blog will explain whether you need to repair or replace an asphalt roof). This is one of the reasons an asphalt roof is known for it's longevity. The way in which an asphalt roof is normally repaired is using a patch repair. Here the hot poultice method is used and the defective area is cut out and replaced with new asphalt. By clicking the following link you can explore asphalt roof repair in more detail: https://www.rjevansroofing.com/asphalt-roof-repairs/.
Liquid Roofing For Commercial Roofs
Liquid roofing systems are popular roofing systems for commercial use. This is because of the wide array of benefits liquid roofing systems offer. When waterproofing a commercial building using a liquid system you are able to install the product all year round. The only requirement is the temperature is above 0℃. Additionally some liquid systems are waterproofed instantly upon application. Whereas others will be waterproof within 2 hours. This means you can almost immediately make use of the roof once application is complete. The obvious upside of this is minimal disruption. This minimal disruption is further enhanced due to the fact liquid systems are cold applied meaning no naked flames are used during installation. Further to this as the system is liquid it is ideal for complex detailing, where it can perfectly form around features such as roof lights.
How To Repair A Liquid Roof
Roof maintenance for commercial premises waterproofed in a liquid system is a straightforward process. This helps maximise the longevity of the roof and minimise any disruption. In fact, as liquid systems are cold applied no downtime need be endured. Most repairs will require the removal of the faulty area and the re-application of new liquid.
Why Choose RJ Evans For Commercial Roofing
• Experienced team of fully accredited commercial roofing contractors. We have operatives with more than 40 years' experience.
• We provide a range of FREE quotations and solutions for all projects.
• Insurance Backed guarantees.
• Excellent Customer Support throughout project.
• Rated 5 out of 5 from our previous customers.
Get In Touch With RJ Evans Today
If you would like a quotation or any information on roofing solutions for commercial roofs please get in touch with us or call us now on 01277 375 511. One of our friendly team will be happy to help.