Cut Edge Corrosion Treatment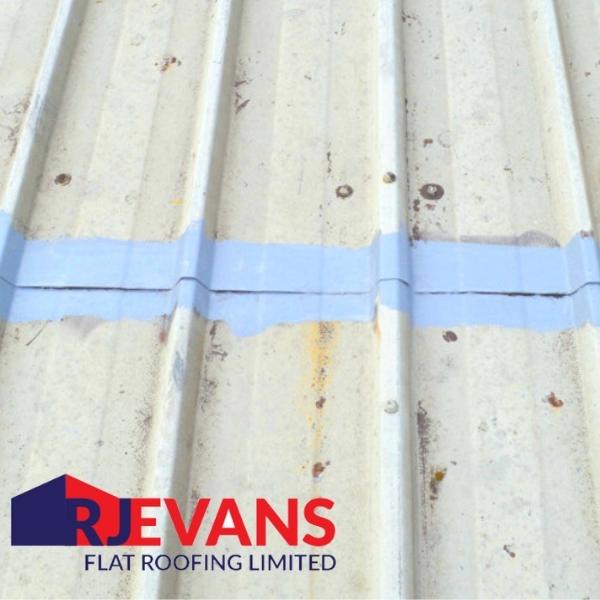 We can provide cut edge corrosion services using a range of coating systems. Our aim is to maximise the life expectancy of any roof suffering with cut edge corrosion by choosing the optimal repair system. Our highly-experienced team covers all of London and South England. We also travel across the UK for select projects. All of our operatives are fully accredited flat roofing specialists.
If you would like a quotation or any information about the cut edge protection services we offer please get in touch with us or call us now on 01277 375 511.
The Problem Of Cut Edge Corrosion
Metal roofing is extremely popular for industrial roofing. However, cut edge corrosion is a problem for many industrial and commercial buildings which make use of a metal sheet cladding system.The roof sheets used on metal roofs receive a factory coating when they are manufactured. This protects them from the elements. When each individual roof sheet is cut to size to suit the building layout, the cut edges aren't re-coated. This leaves the edge of the roof cladding exposed. Over time cut edge corrosion occurs. This is where the roof cladding sheets begin to rust, this starts from the exposed edge and works it's way up the roof sheet. The reason for this is due to weathering and the capillary held rainwater. If this cut edge corrosion is left untreated it will keep progressing up the roof sheet.
This is a progressive problem which over time this will lead to leaks and eventually lead to roof leaks and a roof sheet replacement being necessary. In some cases the whole roof cladding systems can fail. Fortunately, this can easily be overcome by treating cut edge corrosion with a specialist protective coating. Treating the damaged areas will stop the deterioration of the roof system in its tracks. This will extends the lifespan of the roof allowing it to reach at least its expected life span of 20 years (25 years is possible). You should treat cut edge corrosion as soon as possible. This is important as it will prevent the need of a costly total sheet replacement. It is good practice to have regular roof surveys as early detection of corrosion can save significant sums of money.
Of all the cut edge corrosion treatments, a PU liquid waterproofing system is the best option. A system which is BBA approved (1), BroofT4 rated (2) and a fast-curing polyurethane system is ideal. You want to use a thixotropic liquid which does not slump and is easily applied in a single coat. Typically, 150mm is coated top and bottom. It is applied directly onto the existing roof sheets to create a durable and seamless layer. Also, importantly, due to the systems strength there is normally no need to incorporate reinforcing fabric or GFM. The system is easily applied by brush, roller, or squeegee. The system is also suitable for entire roof coverage and the encapsulation of asbestos or fibre cement roofs. This type of treatment will not interfere with the day to day operations of the building so you will avoid any disruption.
Cut Edge Corrosion Repairs Step By Step
• Surface preparation is the first step. You need to ensure the metal roof surface is clean and free from debris such as loose paint. This can be done with a high pressure wash. As well as the metal roof cladding any metal guttering should also be prepared.
• Grind off or sand off all areas on the metal cladding which appear rust effected.
• Any corroded areas or fixings on the metal cladding should be replaced.
• All lap and end joints on the metal cladding should be sealed with a PU compatible sealant.
• The area should then be primed if required (a peel test will confirm this).
• Once cured, reinforce the joints and sheet laps on the metal cladding with reinforcing tape. It is important to ensure the tape is fully bonded to the surface. This is to ensure you have a weather sealed lap joint, after the liquid coating system has been applied.
• Coat with the PU liquid 150mm top and bottom at a typical rate of 1.8kg/m2. This will give a protective layer to the cladding system and give complete corrosion control.
• Once completed a warranty will be issued.
Is Cut Edge Corrosion Treatment Cost Effective?
Yes, cut edge corrosion repairs are cost effective.
• It prolongs the lifespan of the roof.
• It tidies up the unsightly appearance a rusting roof gives off to visiting clients.
• It ensures the workspace is safe and dry.
• It stops disruption caused by replacing an entire roof area.
What Is A Typical Cut Edge Corrosion Treatment Cost?
This is dependant on the access and deterioration stage of the roof and warranty length required. But typically, contractors charge between £30 and £35 per linear metre supplied and installed.
Is a Colour Match Available?
If there is a sufficient area a RAL colour match is possible.
Why Choose RJ Evans For Cut Edge Corrosion Treatment
• Experienced team of fully accredited roof waterproofing specialists. We have operatives with more than 40 years' experience.
• We provide a range of FREE quotations and solutions for all projects.
• Fully approved contractor for a great range of systems proven to extend lifespan of corrugated roofing and wall cladding.
• Insurance Backed Guarantees.
• Excellent Customer Support throughout project.
• Rated 5 out of 5 from our previous customers.
Have Any Questions About Cut Edge Corrosion?
If you would like to ask for a quotation to treat cut edge corrosion on metal roof sheets or cladding. Or you need any help or advice about repairing or prolonging the lifespan of metal roofing please get in touch. You can do this through our contact form or call us on 01277 375 511. One of our friendly expert team will be delighted to help you.
1