Metal Roofing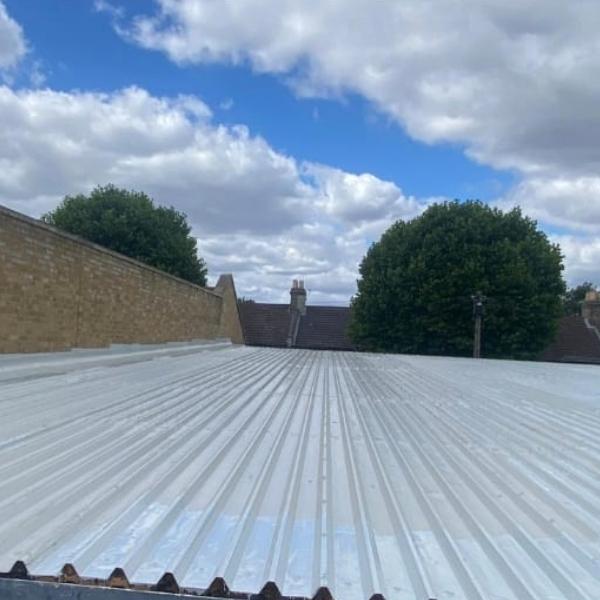 We provide a full range of metal roof waterproofing and repair services. Our aim is to maximise the lifespan of metal roofs by rejuvenating the waterproofing ability of failing metal roofing sheets. Our highly-experienced team covers all of London and South England. We also travel across the UK for select projects. All of our operatives are fully accredited flat roofing specialists.
If you would like a quotation or any information about the metal roofing services we offer please get in touch with us or call us now on 01277 375 511.
Metal Roofing Is The Leading System For Industrial Roofing
Metal roofing is used by industrial building owners more than other materials. Most commonly this is in the form of corrugated metal roof sheets. The reason for the popularity of metal roofing sheets compared to other roofing materials is due to the many benefits they provide.
Metal roof sheets are extremely durable which means the industrial roof waterproofing is long lasting and excellent value for money. Also metal roofing sheets are energy efficient, environmentally friendly and lightweight. These benefits combined with excellent fire resistance make metal roof sheets stand out compared to other roof materials (1). And make it perfect for protecting buildings with high value contents. It is also an easy system to maintain if problems do occur over time.
However, to get the most of a metal roofing system pro-active maintenance is strongly advised. As mentioned before a huge plus point for metal industrial roofing systems is they are easily refurbished with a liquid coating. This does not just mean repairs to the roofing system, it includes improving the roofs aesthetics. Old poorly maintained roofs do not look good for visiting clients. Maintenance with liquid coatings can be offered in a range of colours to make the roofing attractive, modern, and classy. Additionally, you increase the value of your property by installing it. Most property owners consider this process as an investment.
Such a service can be carried out efficiently without impacting the operations of the building below. The best way to do this is normally with a PU liquid coating. This is applied to the corrugated roof sheets. Once applied this coating is able to repair, rejuvenate and maximise the lifespan of the roof. It gives the corrugated sheets protection for up to 25 years. In many cases this significantly extends the service life of the metal roof. This liquid coating can be applied to both industrial roofing and cladding.
How Much Does A Waterproof Coating For A Metal Roof Cost?
Currently we are able to supply and install a coating on an industrial metal roof for between £35 per SQM and £45 per SQM. The main variable in this is the size of the roof. This pricing carries an insurance backed warranty as we are an approved roofing company of the liquid waterproofing manufacturers. This means:
• Full liquid waterproofing without the need for replacement.
• Fast and efficient installation.
• Application by certified practitioners using specialist approved coatings.
• Can be colour matched to complement your branding.
What Are The Drawbacks Of Metal Roof Sheets?
Most leaks on metal roofs are caused by failing roof screws. The way in which screws are used in a metal roof system is to fix the roofing sheets. The screws compress a rubber washer at the screw head's base. Overtime these screws will come loose leaving the opportunity for water ingress. It is money well spent to invest in regular roof surveys to identify such problems early. This is a practice which can significantly extend the roofs lifespan. Without carrying out regular surveys and maintenance work an exposed metal fastener roof can last as little as 10 years.
Between the age of 10 and 15 years such as system is going to require a re-screw. As these roofs age the best solution to ensure longevity is to apply a roof coating. The application of a roof coating can add many years on to the lifespan of a metal roof, which will really maximise the return on the initial cost to install the system. The way in which a roof coating is applied is by using butyl tape to secure all the joints and seams on the roofing sheets. All screws, nails and fasters are covered with butyl caps. Then the liquid coating is applied to the steel cladding. This process will rejuvenate the roof in terms of its waterproofing ability and aesthetics.
What Types Of Metal Sheets Are Used?
The types of roof sheets which are used in metal roofing are normally a form of corrugated metal roof sheets. These are normally galvanised steel roofing sheets which are then coated with a PVC plastisol coating for colour (2). There are also zinc, copper, lead and aluminium systems (these are more frequently seen on residential properties as an alternative to traditional roofing tiles). Additionally, some older metal systems use corrugated roof sheets made from iron. However, galvanised steel roof sheets are by far the most common and cost effective metal roofing material.
How Long Does Metal Roof Cladding Last?
Metal roof cladding can last up to 40 years. Metal roofing offers the best longevity for commercial buildings of any industrial roof cladding system. The key point to ensuring your industrial roof cladding can last for this length of time is to look after it. This means regular surveys and getting the required maintenance work carried out when necessary. Examples include; if corrosion is noticed on the metal surface cut edge corrosion treatment should be applied. Or if the PVC plastisol wears out a specialist roof coating should be applied. Another problem is loose screws which need to be re-fixed to prevent issues such as leaking. If regular surveys and maintenance is adhered to, metal roofing sheets should have a long life span which exceeds the guarantee given.
Why Choose RJ Evans For Metal Roof Waterproofing
• Experienced team of fully accredited roof waterproofing specialists. We have operatives with more than 40 years' experience.
• We provide a range of FREE quotations and solutions for all projects.
• Fully approved contractor for a great range of systems proven to extend lifespan of corrugated roofing and wall cladding.
• Insurance backed guarantees.
• Excellent Customer Support throughout project.
• Rated 5 out of 5 from our previous customers.
Have Any Questions About Metal Roofing?
If you would like to ask for a quotation to waterproof an existing metal roof. Or you need any help or advice about repairing or prolonging the lifespan of metal roofing please get in touch. You can do this through our contact form or call us on 01277 375 511. One of our friendly expert team will be delighted to help you.
1