Industrial Roofing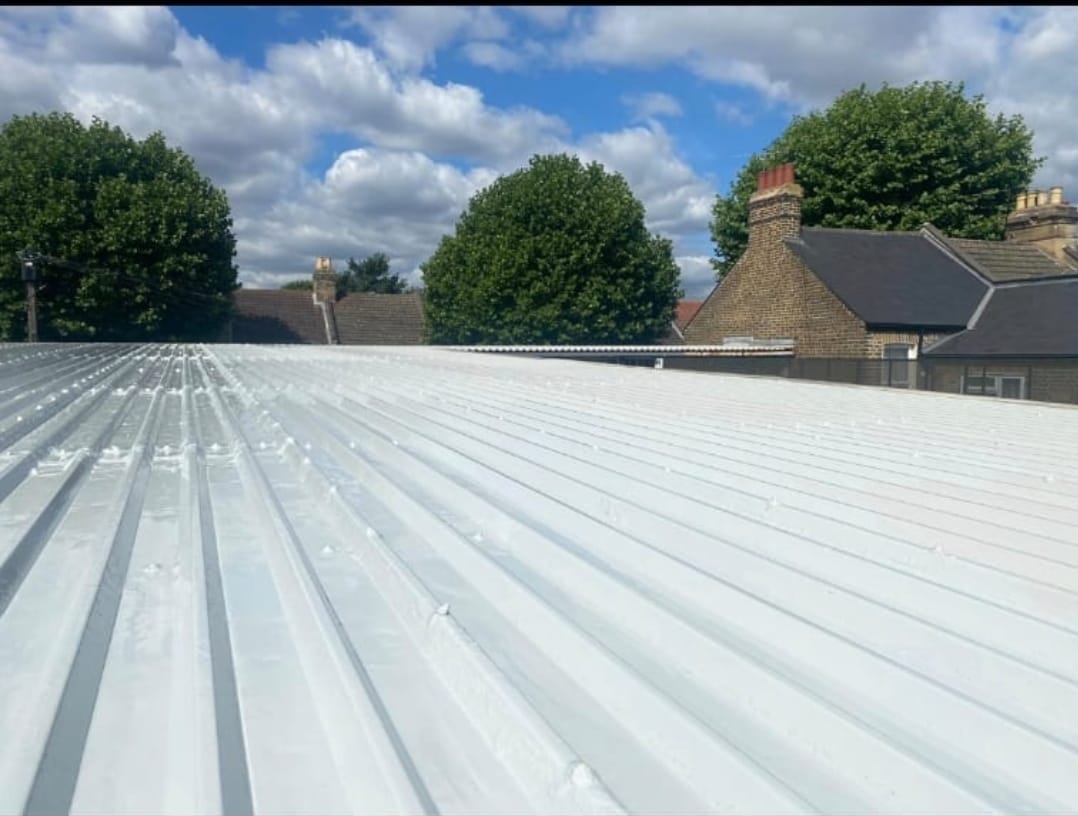 We provide a full range of industrial roof waterproofing and repair services. The cladding services we provide are waterproof coatings and cut-edge corrosion treatment. Our highly-experienced team covers all of London and South England. We also travel across the UK for select projects. All of our operatives are fully accredited flat roofing specialists.
If you would like a quotation or any information about the industrial roofing services we offer please get in touch with us or call us now on 01277 375 511.
What Is Industrial Roofing?
Industrial roofing systems are used to waterproof buildings such as retail units, manufacturing units, factories, storage warehouses and distribution centres. These roofs are typically low slope or flat roofs. The main considerations when choosing an industrial roofing system are; durability, ability to handle a range of weather conditions and fire resistance. All of these considerations are obviously vital as most industrial buildings contain equipment and products which can have a high total value. In modern times, the type of roof used for industrial roofing is normally metal.
What Are The Benefits Of Metal Roofing For Industrial Roofing?
The main benefits of metal roofing are as follows; durability which in turns leads to longevity, fire resistance, energy efficient, lightweight and environmentally friendly. As you can see these benefits tick all the boxes for the characteristics you would want when choosing a material for an industrial roof. Additionally, metal industrial roofing is easy to maintain. If anything does go wrong with a metal roof it can normally be easily put right efficiently without impacting the operations of the building below. The best way to do this is normally with a PU liquid waterproofing coating which has the ability to repair, rejuvenate and maximise the lifespan of the roof. This liquid coating can not only be applied to industrial roofing, but to industrial cladding too.
What Are The Main Problems With Industrial Roofing?
The majority of leaks on metal industrial roofs are caused by failing roof screws. These screws keep water out by compressing a rubber washer at the base of the screw head. If you have an exposed fastener metal roof, it's best to get it checked by experienced industrial roofing contractors at least once every 10 years. In an ideal world you would get the roof assessed more frequently, as this can significantly extend the lifetime of your commercial roofing.
Without maintenance from industrial roofing contractors an exposed fastener metal roof typically lasts 10 to 15 years. Beyond this time period your exposed fastener metal roof is going to need a re-screw. Also, a metal roof sealer is required. Butyl tape is positioned over the joints and seams between the metal panels and butyl caps are placed over all nails and fasteners to ensure proper sealing.
What Types Of Metal Are Used By Industrial Roofing And Cladding Contractors?
The materials most frequently used by industrial roofing contractors are metal based, predominantly; steel or aluminium. Many steel panels are created from galvanized steel then coated with a plastisol coating for colour.
Metal Roof System Life Expectancy
40 years
Tried and true metal roofs have the best longevity of any industrial roofing system. With care and maintenance they can last up to 40 years. Loose screws and cut edge corrosion issues should be rectified to get the most value for money out of a metal roofing system.
What Other Materials Are Used For Industrial Roofing?
Contractors providing commercial roofing services often use EPDM systems. This type of system can also be used for industrial roofing. It has a reasonably low cost and can be installed quickly on uncomplicated roofs. However, it does have seams. Due to seams being prime areas where water ingress develops as a roof ages, this often seen as a weakness of EPDM roofing. PVC and felt are also used for industrial roofing. However, none of these systems come close to the popularity of metal sheeting for industrial roofing.
What Is The Typical Lifespan Of Other Industrial Roofing Systems?
The systems used for industrial roofing have lifespans ranging from 10 to 40 years. This depends on the roof having a good maintenance system. Factors such as direction and location of the roof area may also play a part. Industrial roofing services such as; regular inspections and remedial works can really pay dividends due to how long they can extend the service life of industrial roofing.
Some commercial roofing contractors specialised in one aspect of industrial roofing whereas others have the ability to provide an expert team for a range of roof types. Below we will look at the typical life expectancies of various industrial roofing systems.
TPO Roof System Life Expectancy
20 to 25 years
TPO stands for "Thermoplastic Polyolefin". It is a single ply roofing membrane often used on industrial roofing projects. A roll of TPO comes in a sheet of between 10 and 20 feet in width. The seams of TPO industrial roofing systems are a common area where they can fail. The reason for this is as TPO is laid in sheets. This means the seams can pull apart and potentially cause water ingress. Other potential trouble spots include where the flashing meets the TPO system and if the TPO roofing membrane suffers from a puncture.
EPDM Roof System Life Expectancy
20 to 30 years.
EPDM stands for "Ethlyene Propylene Diene Terpolymer". It is a type of synthetic rubber membrane used on roofs due to its durability. The size of the EPDM sheets used for industrial roofing can be anywhere from 7.5 feet all the way up to 50 feet. As this type of industrial roofing system is laid in sheets, the seams will need to be adhered using a liquid adhesive or a specialist roofing tape. It is also possible to have EPDM sheets in two different thicknesses; 4.5cm and 6cm. Like all roofs the lifespan of an EPDM system is heavily dependant of the quality of the commercial roofing contractors who install it. Industrial roofing often has complex details such as air conditioning units, down pipes and roof lights. This can make EPDM are hard install for commercial roofing contractors who are not experienced with the system. It is imperative all complex details are finished water tight. Another potential problem with EPDM roofing is seams which can be prone to suffer from water ingress.
PVC Roof System Life Expectancy
up to 25 years
PVC stands for Polyvinyl Chloride. PVC is a single ply membrane. It comprises of ethylene and chlorine. It was first used to waterproof large roofing areas found on industrial buildings such as warehouses and factories. But now it can also be found as a waterproofing membrane for smaller roofs. PVC roofs have good fire-resistance properties, chemical resistance, flexibility and grease resistance. With correct installation, these roofs can last up to 25 years. However, PVC roofs do have some vulnerabilities. Like all single ply systems holes can easily be created in the membrane leading to them being susceptible to leaks. Loose screws, grease or dropped tools can all cause this to happen. PVC roofs have fewer seams than other systems such as felt, but still where there are seams there is a potential for water ingress.
Felt Roof System Life Expectancy
up to 25 years
Felt roofing can also be used on industrial roofing. Industrial roofing services such as felt overlays and built up roofing can be used. Built up roofing consists of 1 or 2 base layers with a final cap sheet. Whereas an overlay would be laid over an existing system such as single ply. The main benefits of felt roofing are it is cost effective, easy to repair and is a system which has proven itself over time. However, it has seams which can lead to problems with water ingress and is not the most robust system. Also there can be problems with the lifespan of a felt roof if not installed correctly. For this reason it is imperative to get any industrial roofing services using felt installed by a felt roofing specialist. If this is the case and proper maintenance is used, a felt industrial roof can last up to 25 years.
Asbestos And Fibre Cement Roofs For Industrial Roofing
Asbestos and fibre cement roofs are also used in industrial roofing. However, they are now not as common due to health and safety concern (1). The life expectancy of an asbestos or fibre cement roof is up to 40 years (according to the RICS) and many are now at, or near the end of their economic life.
Industrial Services Our Roofing Specialists Can Provide
We can provide a full range of industrial roofing services. This includes TPO, EPDM, felt and liquid coatings. We are also able to fulfil clients expectations with a variety of specialist liquid roof coatings for the repair, rejuvenation, and maintenance of varying types of flat roof surfaces used on industrial roofing. This does not just include metal roofs. We can also apply industrial roofing services like this to felt, PVC and EPDM roofs. In many cases this saves significant amounts of money. Full liquid waterproofing can be applied without the need for the removal or replacement of old damaged or leaking industrial roofing systems.
This means far less disruption for your business. The liquid coating systems we provide can cure in low temperatures, which means they can be applied virtually all year round. These systems also come with warranties of up to 25 years. It is also possible to provide the liquid coating with special finishes. This includes specific corporate colour schemes, anti-slip finishes and chemical resistant coating. These liquid applied roof coating systems can be used on virtually any surface.
With any industrial roofing services we provide full technical back-up, site reports and a specification service. In most cases we are able to meet our clients colour and finish requirements. This includes;corporate colour schemes, anti-slip and chemical resistant finishes.
Have Any Questions About Industrial Roofing?
If you would like to ask a roofing company for a quotation on an upcoming project. Or you need any help or advice about industrial roofing services please get in touch. You can do this through our contact form or call us on 01277 375 511. One of our friendly expert team will be delighted to help you.
1