Flat Roof Repair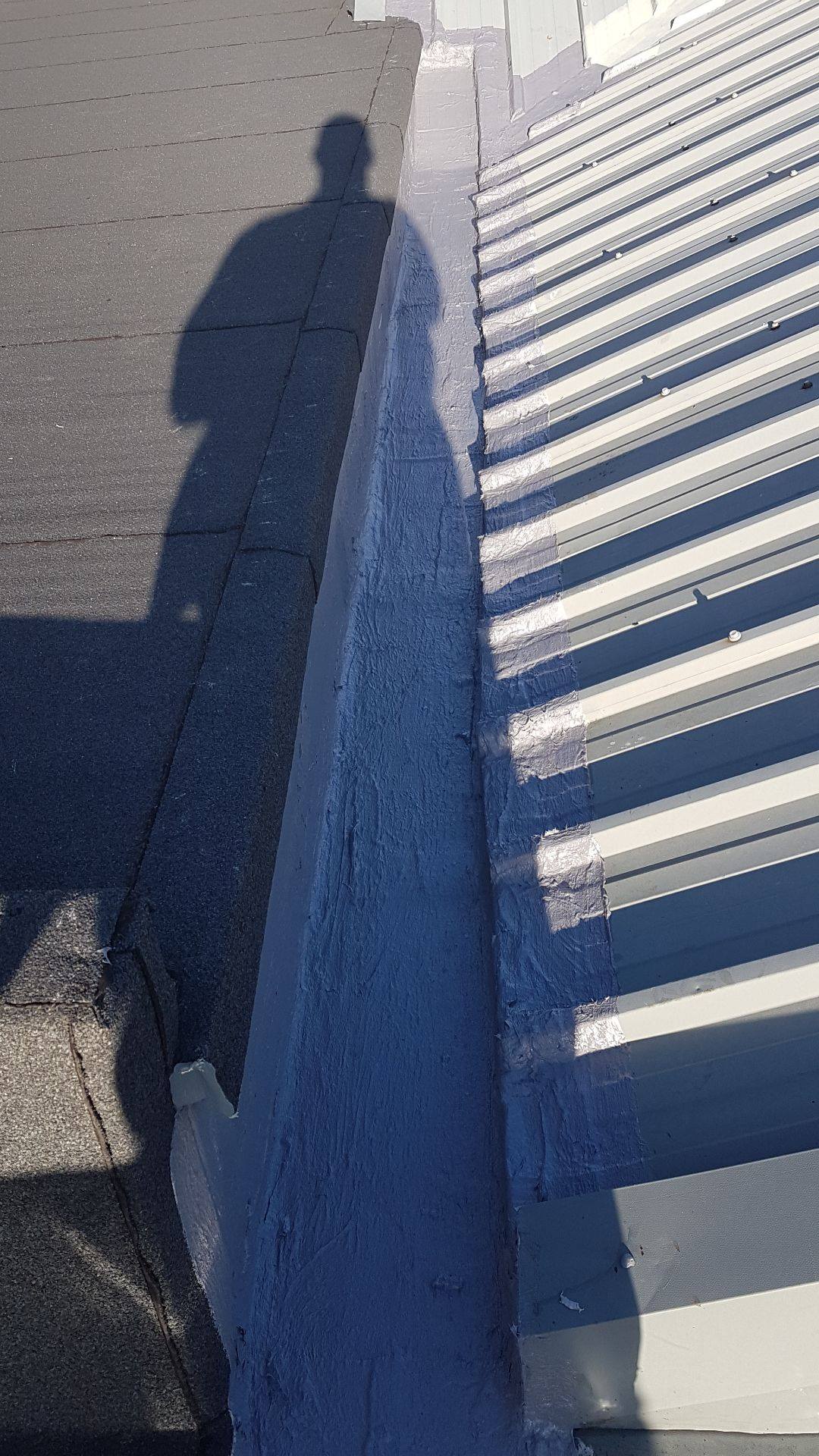 We provide a full range of flat roof repair services. We cover repairs for all roof types, from small residential roofs all the way through to large scale commercial projects.
Our highly-experienced team covers all of London and the South of England. Every member of our team are fully accredited flat roofing specialists. To learn more about our flat roofing service please click on the following link: https://www.rjevansroofing.com/flat-roofing/
If you would like a quotation or any information about our repair service for flat roofs please call us on 01277 375 511 or email us: estimates@rjevansroofing.com .
Do You Need To Invest In Flat Roof Repair?
Flat roofs installed by a professional roofing contractor will normally be long lasting and have a life expectancy which exceeds the guarantee given upon the roof's original installation. However, over time or due to poor workmanship, flat roof repairs may be necessary.
Thankfully, most of the time the repair of a flat roof is inexpensive compared to the cost of roof tile work. This is one of the key reasons flat roofing has become such a popular roofing system. Below we will detail the types of repair both permanent and temporary which can be carried out on a flat roof.
The Dangers Of Not Repairing Your Flat Roof
If you don't have the necessary flat roof repair work carried out when you identify a defect in your roof, the problem will only get worse. Roofing defects do not get better with time, they become worse and compromise the integrity of your roof. The day you spot a repair needed to your flat roof, is the day which the cost of repair will be at its lowest point.
As an example, a flat roof leak left for a long period, can progress into a much larger problem. In just a short time, small leaks can develop into big problems, such as mould, rotten roof timbers and sheathing, destroyed insulation and damaged ceilings. In summary, dealing with leaks when they are first noticed will save you money and stress.
Flat Roof Repairs Can Often Save Your Roof
Repair is arguably the area of flat roofing which requires the highest degree of skill. For this reason, many unskilled roofers will recommend a recovering or replacement of the roof. This is often unnecessary and a repair from a skilled tradesman would remedy the problem (not to mention this would save you a significant amount of money).
When flat roof repair is needed. It is always important to trace the fault and make an analysis of the most cost effective way to remedy the problem. The repair specification must consider any movement in the current roof and the reason for the original failure which led to a repair being required.
Flat Roof Repair on Built Up Roofing Systems
When most people think of a felt roof they envisage the now outdate practise of 'pour and roll' felts where thin bitumen felts were glued together with hot liquid bitumen and then built up into layers. This style of felt roof resulted in poor quality roofing systems which were inclined to suffer from rotting, a dried out surface, or cracking. In modern times, a felt roof is often a form of built up roofing.
Felt is used as a type of a roof hat. It comes in rolls and is then laid by using a very large blow torch1, which heats and melts the felt onto the roof structure below. In most cases workers will apply a 3-layer system that contains a layer of perforated underlay followed by a 2mm underlay and lastly a thick felt layer normally of about 4-5 mm, known as a cap sheet. The layers are laid in a half lap manner which means that the joints are as far away from the other joints as possible. Further to this each layer is strengthened with strong polyester weave that has been inserted into the middle of the felt making it extremely durable.
To repair this type of roofing systems, polyester base or woven glass base torch-on materials are most often used for minor repairs to built-up roofing systems. The only time this would not be the case is if the use of the naked flame would be classed as a fire risk. The main benefit of using torch on felt is the amount of time and money saved. This is why felt roofing is such a popular flat roof material.
A high-quality torch applied polyester material is best for built up flat roofing repairs. This patch of polyester material should be cut to cover the area which has suffered damage by 100mm in all directions.
Repair of Splits on a Flat Roof
Splits normally occur on flat roofing systems such as felt normally occur on old systems which are not polyester based. It is still possible to repair an old system which is not polyester based. However, the roof would have to be structurally sound and free of water absorption.
Roofs which are badly drained and covered in old style felts which contain fibre will in most situations need to be completely recovered. Roofs in old style fibre based felt which are well drained will be able to successfully take a flat roof repair.
If a split is found along the joint line of an insulation board or timber decking the flat roof repair should cover the whole length of the joint line. This repair should be 100mm either side of the area of damage and the full length of the joint. The reason for this is to ensure no further trouble is encountered along this area of obvious weakness.
If this is not done and only a small patch repair is used it is highly likely the split will continue to extend along the line of the joint. The only exception to carrying out the repair along the full joint line is if it is 100% certain the split was caused by impact damage which has torn through the felt. If this is the case a patch repair can be carried out which extends 100mm in all directions around the joint.
Once the repair work has been carried out on a flat roof it is important to replace and stone chippings on the area to continue to give maximum protection to the roofing system. If the roof has a solar reflective paint coating.
Repairing a Mineral Surfaced Flat Roof
When conducting a repair on a mineral surfaced flat roof it is imperative to ensure the roof is completely dried. Also, if the repair area is a large one, a primer should be applied to the complete area. Torch on materials for the repair must be applied with a high level of heat. The reason for this is to ensure a free flow of bitumen to fill all the spaces in between the mineral granules and ensure the best possible bond with the existing roof. It is completely necessary to do this even if it results in the appearance of the roof suffering.
Asphalt Flat Roof Repair
Mastic asphalt is an amazing roofing system due to it being extremely easy to repair. For this reason, the bitumen based asphalt is a leading roofing material as it is long lasting. This beauty of repairing asphalt roofs is any damage area to be simply cut out and restored with new asphalt. Once new asphalt is applied it is fused into the existing asphalt system using poulticing. If you need a flat roof repair and have an asphalt roof you can be sure in nearly every situation a whole roof replacement will not be necessary. Typical problems with asphalt roof systems include blows, cracks, slumping, oil damage and pulling away from the brick work around the edges of the roof.
If you need asphalt flat roof repair you can find more detailed information here: Asphalt Roof Repair
If You Want To Try And Repair The Roof Yourself
Temporary flat roof repair is a great option if you are comfortable carrying out DIY tasks and have no fear of heights. If you do choose to go down the DIY route it is important to make sure you conduct a risk assessment and take all the proper safety precautions. Applying repair paint, yourself is an effective way to preserve the integrity of your roof until a more permanent repair can be carried out.
A roof repair paint can be found for the repair of nearly all types of flat roof materials. The best repair paint for your situation can be found by consulting the website of a manufacture such as Alphateq Waterproofing.
To carry out a DIY repair you will need: A brush, a towel/heat emitting gun, a measuring tape, a broom and roof repair paint (or one of the roof repair kits from Alphateq Waterproofing).
Step By Step Guide to DIY repair of your Flat Roof:
1) First you need to identify the source of leak. From inside measure where the water mark or damp patch starts on your ceiling. For example, a metre in from the corner of the room.
2) Then climb up onto your roof and use the measuring tape to measure roughly the distance in from the same corner. This should help you find the area where the repair needs to take place. You may see visible ridges, puncture holes, splits or hollows which will clearly indicate this is a problem area on your roof. There may also be water pooling in these areas or ring of dirt.
3) Check the whole roof for issues. Don't forget to look and check over the entire roof while you are up there as you may see some potential weak areas were splits could form. Keep an eye on any dry joints of lifts too that you can get ahead of and repair.
4) Once you have finished assessing the areas that need repairing, return to the original area you identified as a problem. If there is excess water dry off the area as much as you can. This can be done with a towel or a heat gun.
5) Once this has been achieved use a broom to remove any dirt or moss that may be on the surface creating a clean surface area for you to work on.
6) Next, paint the sealant onto the roof to bond with the surface and drive out any moisture. It can get flecks, which form naturally in the paint, but don't panic - keep going over and it they will go to leave a smooth surface. Most tins direct that you should aim for 2 millimetres' thickness but it is worth double checking the manufacturers guide. It is important to carefully go over any joint or split to make the sealant extra thick. The reason for this is because these areas are most vulnerable to water ingress.
7) If you have any splits it is advisable for you to reinforce them. This can be done with a specialist roofing tape or with self-adhesive plasterer's scrim. Measure the spilt then cut the scrim to the correct length, once done place to one side.
8) Now work over the area with the paint sealant, once you feel the coverage is correct you can put the plasterer's scrim2 on top. Finally, work the sealant over the top of this; the scrim is 2 or so inches in width, which helps to make sure you have given the crack enough coverage, as well as strengthening the repair.
Follow these guidelines carefully and you can buy yourself a few extra months or even a year before you need to get a permanent repair done. Obviously other factors will come into play here, such as weather conditions and the extent of the required repair work. Whilst the job may look patchy on top and appear unsightly the good news is that it won't be seen from the pavement, this would not be the case if you had done such a repair on the roof tiles of a pitched roof.
If after you have attempted the repair the problem is not rectified it is highly recommended that you contact a professional roofing contractor.
Keep Records of Any Flat Roof Repair Work
It is important to keep a record of any flat roof repair work you undertake.
When you have any flat roof repair work carried out it is important you keep a record of what you had done. This serves two purposes.
First, it can save you a lot of money if you need to claim against your insurance for damage to your roof. The reason for this is you can prove the condition of your roof and that you have been carrying out regular maintenance work.
The second reason is a record of repair locations and the date of the work carried out will allow the easier diagnosis of any future problems your roof may encounter.
In rare circumstances the source of a flat roof problem may not be able to be traced. In these situations, a re-covering of the flat roof would be the best solution. Before any decision is made a thorough systematic investigation should be conducted.
Why Choose RJ Evans for Repair Work?
• Vastly experienced repairs team. We have operatives with more than 40 years' experience.
• We provide a range of FREE quotations and solutions for all projects.
• Insurance Backed Guarantees.
• Excellent Customer Support throughout project.
• Rated 5 out of 5 from our previous customers.
Get In Touch With RJ Evans Today
If you would like a quotation or any information about our repairs service please call us on 01277 375 511 or email us: estimates@rjevansroofing.com .
1
An Inspection Of A Failing Felt Flat Roof