Asphalt Roof Repair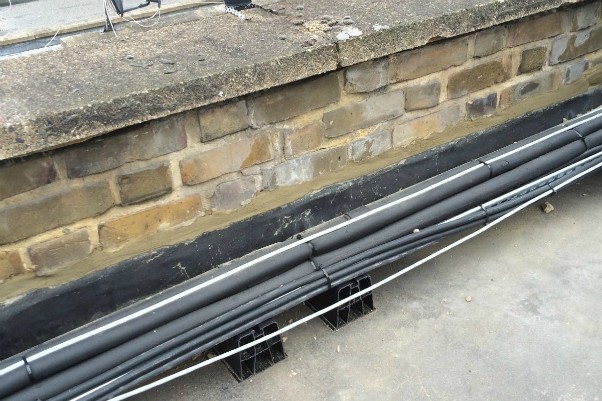 We provide a full range of asphalt roof repairs. This includes minor asphalt repair work all the way up to large scale asphalt roof repair work. Our highly-experienced asphalt roof repair team covers all of London and the South of England, and are fully accredited asphalt roofing specialists.
If you would like a quotation or any information about our asphalt roof repair service please get in touch with us or call us now on 01277 375 511.
Asphalt Roof Repairs Normally Consist of Minor Repairs and a New Coating of Solar Reflective Paint
Asphalt is an amazing roofing material as if it does ever suffer from any damage it can easily be repaired. This make an asphalt roofing system very hard to compete with when it comes to longevity. An asphalt roof which is maintained every 3 to 5 years will survive way past any guarantees which have been issued for the roofing system.
Normally when it comes to asphalt roof repairs all that is needed is a few small repairs and a new coating of solar reflective paint1.
An experience asphalt spreader will easily find and rectify any necessary repair work. The seamless smooth finish of an asphalt roof ensures any problems are immediately visible and dealt with without fuss.
In situations where an asphalt roof is coming to the end of its lifespan an experienced asphalter would immediately recognise this and offer advice on the most cost effective remedy to the situation.
Typical Reasons to Need Asphalt Flat Roof Repair Work
• Blistering. Mastic asphalt blisters will be easy to spot with the naked eye. There can be just a single occurrence of blistering or it could be prevalent through the roof. They will look an unnatural part of your asphalt roofing. They will be raised above the flat surface of your roof and look like small bumps but have their tops cracked or split open. The reason blistering occurs is when moisture gets trapped underneath the surface of the asphalt. Blistering is something which occurs in the latter stages of a defecting asphalt roofing system.
• Bumps. Bumps in your asphalt roofing is a defect one stage before blistering occurs. It is the same in every aspect apart from the tops of the bumps are yet to crack or split open. If left without asphalt repair work the bumps will deteriorate further and evolve into blistering.
• Splits and Cracks. This defect can be caused by thermal movement in the substrate, impact damage or much like blistering and bumps trapped moisture. The problem with this defect is when rainwater seeps into the split or crack. In colder temperatures, this problem is even worse as the rainwater can turn to ice and cause the split or crack to increase in size.
How to Repair an Asphalt Roof
If your asphalt roof does need repair work it will need to be carried out by a professional asphalt roofing contractor. The asphalt specialist will identify the problem area of your roof and use what is known as the 'hot poultice' method.
This is where heat will be applied to the perimeter causing the asphalt to soften. This allows us to cut into the perimeter with a hammer and bolster. Next, we carefully lift the asphalt which has been cut out with a shovel or pick.
Now we must repair the affected area where the asphalt has been removed. The exposed perimeter is cleaned up to create a break joint. This break joint is created 10mm beneath the top surface edge. Next, we cut a piece of sheathing felt to the size of the exposed area and place it inside.
The next step is to apply our first layer of mastic asphalt which one of our operatives would have prepared by melting mastic asphalt blocks2 in our mixer. This coat is 10mm and spread in a smooth even coat with a wooden float. This will be finished with 10mm edge joints which are reheated by the asphalt and then remade.
Once this has been done we wait for the asphalt to cool down. Depending on the specification or the situation a second coat of mastic asphalt may be necessary.
Then a top coat will be laid with all the joints remade. The result will be an even plane with edges showing a 'fusion' joint between the old asphalt and the newly applied asphalt.
Then we scatter coarse sand evenly across the area. The reason for this is for the sand to absorb the bitumen in the asphalt. If this is not done when it rains the water will pool and within a matter of weeks all the bitumen will be drawn out of the asphalt and it will become a faded grey colour. Also, crazing will occur which is when the asphalt surface has the appearance of continuous cracking throughout.
Within 20 to 40 minutes the asphalt will be cooled off and the asphalt flat roof repair will be completed. The last step which is recommended is to apply a coat of solar reflective paint over the new repair (and frequently the entire roof). The reason for this is to maximise the asphalts life and minimise the movement which occurs through the season due to period of intense UV rays which cause the roof to expand and colder conditions which cause the roof to contract. Over time this cycle causes the typical reasons for asphalt roof repair work being needed.
Once all this has been done the roof is ready for foot traffic and to undertake the everyday duties required of it.
If you are in a dilemma as to whether you should repair or replace your flat roof this blog post may be exactly what you are looking for:
https://www.rjevansroofing.com/blog/should-i-repair-or-replace-my-asphalt-roof/
Why Choose RJ Evans For Asphalt Roof Repairs
• We have our own Asphalt Mixer this means a flame free laying of the mastic asphalt. Better consistency in the asphalt mixture meaning a more efficient installation process with a better overall finish.
• Vastly experienced asphalt team. We have operatives with more than 40 years' experience.
• We provide a range of FREE quotations and solutions for all projects.
• Insurance backed Guarantees.
• Excellent Customer Support throughout project.
• Rated 5 out of 5 from our previous customers.
Get In Touch With RJ Evans Today
If you would like a quotation or any information on asphalt roof repairs please get in touch with us or call us now on 01277 375 511. One of our friendly team of asphalt specialists will be happy to help.
1
Asphalt Roof Repairs At The Tower Of London