One of our preferred products for Liquid Roofing and Liquid Waterproofing of all kinds is Hydrostop AH25 Liquid Waterproofing.
In this roofing blog post we look at the latest AH25 product AH25+ as well as AH15+.
We aim to show how both of these products should be correctly installed to ensure the surface they are applied to is watertight.
As well as this we hope you can gain a deeper understanding of the principles and the process of liquid waterproofing. And for you to learn the expected finish of these liquid waterproofing systems whether it be a complete flat roof, a joint or complex upstand detailing.
What is AH15+ and AH25+ Liquid Waterproofing?
Both of these products are manufactured by SIG1 design and technology. Hydrostop AH+ was developed with consideration to the installer of both liquid roofing and liquid waterproofing systems. A liquid installation can be very challenging for the installer.
They have to deal with all of the following combined:
• Unpleasant Odours.
• Restrictive Weather Conditions.
• Different Application Processes.
• Multi Component Systems.
The Build-up of AH+
Asphalt or Bitumen Overlay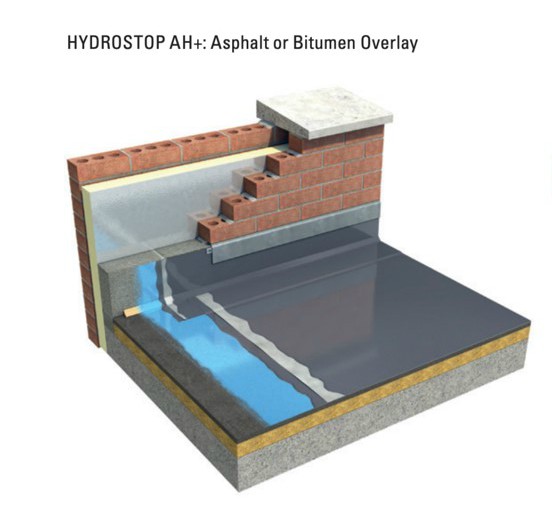 OSB/Plywood Cold Roof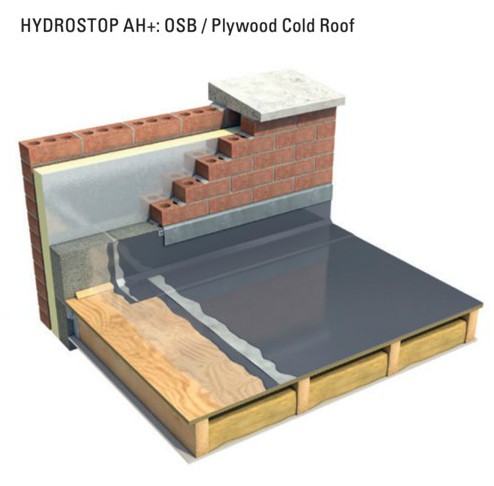 Warm Roof without Carrier Membrane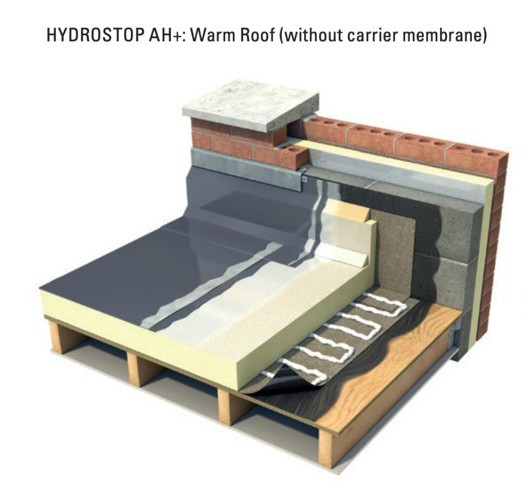 Warm Roof with Carrier Membrane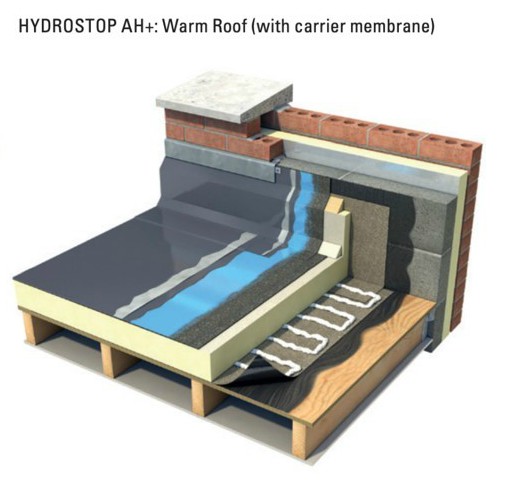 Hydrostop AH25+ Eliminates Many of the Common Liquid Waterproofing Challenges
Hydrostop AH25+ is a very practical product due to the number of challenges it eliminates or reduces for the installer.
It is a wet-on-wet cold applied liquid waterproofing product which is fully reinforced with a polyester fabric. It is an extremely versatile one component liquid system with superior performance in comparison to other systems. This makes it ideal for new build and refurbishment projects.
The Benefits of AH25+
• Superb Results with Complex Detailing.
• Easy Application
• Fast Curing Times
• Low VOC Content
• Fume Free and Virtually Odourless.
• Can be applied in nearly any conditions.
• Can be applied at low temperatures.
Below we look at some of the training videos offered by SIG regarding AH25.
Overview of AH+ Liquid Waterproofing
First, we look at an overview of the benefits of both AH25+ and AH15+. We also get to have a look at an installation demonstration.
Surface Preparation and Priming in Hydrostop AH+
This video shows how to prepare a flat roof deck for the installation of Hydrostop AH+ waterproofing. This includes demonstrations of two of the five primers.
• The WP Primer for installation over OSB and Plywood.
• The block primer for installation over Asphalt Roofs and Bituminous Membranes.
Taping Joints
This video demonstrates how to use Hydrostop AH+ self-adhesive tape for joints. It is intended to bridge small gaps and joints in the roof deck. This is to be done before applying the liquid coating for waterproofing.
Mixing the Liquid and the Field Area for Hydrostop AH+
This video demonstrates the Wet on Wet application of Hydrostop AH+ to the field area of your roof. It also shows us how to mix the single component liquid.
Fabrics for use with Hydrostop AH+
This video introduces the two types of fabric available for use with Hydrostop AH+. It also details the different application rates which apply to each.
Internal Corner Details
Corner details need to be correctly installed in order to make sure a liquid roof performs effectively. This video shows how to install reinforced internal corners using the Hydrostop AH+ liquid system.
External Corner Details
Just like internal corner details, external corner details also have to be installed correctly. This training video details how to install reinforced external corners using the Hydrostop AH+ system.
Outlets in Liquid Waterproofing
All rainwater outlets are required to be reinforced. This training video demonstrates how to deal with rainwater outlets in a Hydrostop AH+ using two pieces of reinforcement fabric:
Pipe Penetrations in Liquid Waterproofing
This training video demonstrates how to deal with reinforced pipe penetration details with Hydrostop AH+.
Anti-Skid Walkways with Liquid Waterproofing Systems
The Hydrostop AH+ Anti-Skid Walkway System protects the waterproofed area where access walkways are required. This training video demonstrates how to install the Anti-Skid Walkway System on top of a fully cured Hydrostop AH+ liquid roof.
We hope this blog has given you a great insight into the process of liquid waterproofing. And the main benefits of liquid systems, in particular the featured product in this blog Hydrostop AH25+/AH15+.
If you would like a quotation or any information on Liquid Roofing, Liquid Waterproofing or Hydrostop AH25+/AH15+ please get in touch with us or call us now on 01277 375 511.
None None