Liquid Waterproofing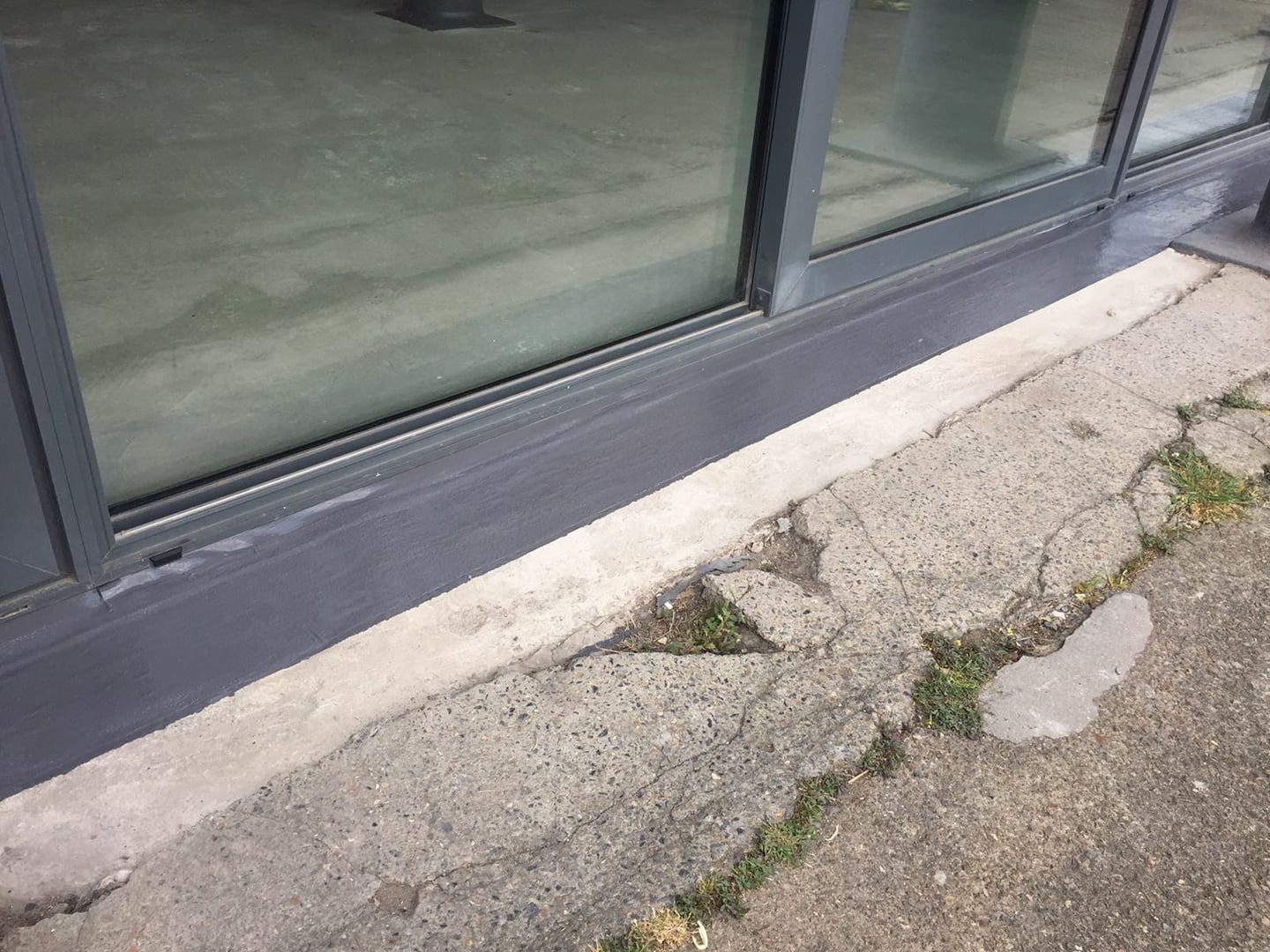 We provide a full range of liquid waterproofing services. This includes liquid waterproofing for flat roofing, balconies, steps, walkways and much more. Our highly-experienced team covers all of London and the South of England, and are fully accredited liquid waterproofing specialists.
If you would like RJ Evans to provide a quotation or any information about liquid waterproofing please get in touch with us or call us now on 01277 375 511.
What is Liquid Waterproofing?
Liquid waterproofing is a way to protect all types of surfaces including steps, roofs, basements and balconies. The effectiveness of liquid waterproofing systems has seen a sharp increase in its use over recent years. The types of coating in the waterproofing process can vary from just as single layer component all the way up to multiple layers with matting. Many liquid waterproofing solutions are rapid curing and allow for application in low temperatures all the way up to the extreme temperatures of summer.
What is A Liquid Waterproofing Membrane?
The most popular form of liquid waterproofing membranes are polyurethane (1), whilst the quality and solvent content of the polyurethane can vary, the method use to install this waterproofing membrane is very similar.
The liquid will begin to react to the surrounding air the moment the sealed container opens. The reaction cases a seamless waterproof membrane to form. With the use of brushes or rollers the installers will spread the liquid across the substrate surface area, and leave the surface of the coat to cure. If the decision to apply two coats is made, installers will leave a window of 24 hours between the coats to give the bottom coat maximum time to cure.
However, should the installer be following a wet-on-wet system installers will wait an appropriate amount of time for the first coat to seep through the reinforcement membrane (this membrane tends to be a polyester fleece of a glass fibre matt) before they apply the top coat.
When Can Liquid Waterproofing Being used?
To Repair and Refurbish Roofs
If your roof is entering the final stages of its life, liquid waterproofing can be used to refurbish it. It is a seamless application which is able to bond fully to a range of substrates, including ply membranes, fibre cement and profiled metal.
It is also a great option to use to repair an existing roof which has been damaged, when the current roofing material has deteriorated or is not adequate. For example, if the roof's current membrane is not working the decision to apply a liquid waterproofing overlay can be cost effective. Particularly as the way in which it bonds to the original substrate makes it highly reliable.
Another added bonus of using liquid waterproofing to repair or refurbish a current roof is it doesn't require electricity. So there is no need to worry about how to get electricity to the rooftop and noisy generators and cabling is not required.
On Complex Roofs and New Builds
Cold applied liquid waterproofing is a great option for more complex roofs and new builds. It is easy to manipulate and so can be used on roofs with intricate detailing, edging which has detail, terminations and penetrations, as well as upstands. The fluidity of liquid waterproofing means even roofs with added details can achieve a professional finish.
On Inverted Roofs
An inverted roofing system is where the membrane is applied underneath the insulation and ballast, liquid waterproofing is a useful option to use under these circumstances. Liquid roofing systems which have root resistant properties are a great choice for green roofs.
Pitched and Flat Roof Systems
Cold applied liquids can be applied to roofs with a pitch of more than 15 degrees. Unlike many other systems liquid can also be applied to roofs with a pitch of less than 5 degrees. This is also all applied completely flame free, and can be used on both a new or existing roof. The elimination of hot works from waterproofing has made cold applied liquid the fastest growing waterproofing solutions in the world.
Industrial Roof And Gutter Repair
Liquid waterproofing can be used to provide cut edge corrosion treatment to provide warehouse roof repair, factory roof repair and to provide an anti-corrosion gutter coating. In most circumstances this will add significant time to the life expectancy of the roofing system.
Asbestos Encapsulation
Liquid is a great solution for the encapsulation of asbestos roofs. A fast curing liquid system will create a protective layer which will prevent the release of asbestos fibres and stop water ingress. It will also reduce the growth of vegetation and avoid the disruption of a full asbestos removal. When completed the life expectancy of an asbestos encapsulation is around 25 years which is backed up with a full warranty. An underestimated benefit of using a liquid applied system for asbestos encapsulation is how it is an aesthetically pleasing finish which will make the roof look brand new again.
What Are The Benefits Of Liquid Waterproofing?
There are many advantages of using liquid waterproofing system for a flat roof. Firstly the procedure of applying liquid waterproofing is one which requires no flame as part of the installation process. Instead it is a cold applied liquid waterproofing which means not only does it poses less healthy and safety risks to those applying the waterproofing, but it also means minimal disruption to the property and its occupants during the liquid waterproofing process.
Secondly, it is a system which can be applied throughout the year so long as the temperature remains above zero degrees. This means liquid waterproofing can be carried out during the winter period as well as other months of the year.
Furthermore, liquid waterproofing membrane is highly durable and should repair work be needed it is an easy process to undertake. In case of local damage the installers will only need to repair the specific area. This means once the affected area has a liquid overlay it will make the existing roof waterproof again. obviously this is far better than having to remove a large section or even all of the roof. This is why liquid roofing systems are cost effective. In addition to this, the method of applying the waterproofing without flames minimising the disruption of any repair work - making it particularly advantageous to those who own commercial properties.
The lifeline of flat roofs is impressive with many flat roofs which have undergone waterproofing treatments boasting a lifetime stemming over 25 years.
The malleable nature of liquid waterproofing along with its elasticity means it copes well with the natural movements which flat roofs endure throughout the year. This means in a correctly installed waterproofed system the likelihood of cracks or splits occurring across the flat roofs surface is greatly reduced.
The fast curing nature of the waterproofing application means the flat roof is waterproof instantly or at the very most 2 hours following the process (the timeframe can be lengthened should the roof be subjected to any abnormal temperatures).
The flexibility of the waterproofing process is an additional benefit as it can be applied event to roofs with complex detailing. The liquid membrane is easy to shape and direct, making it possible to fit into tight spaces and fill any tricky areas. The unique factor of it being a liquid membrane (meaning it is easier to manipulate) really makes it stand out when compared to other forms of roofing membranes.
Lastly, the fact this liquid waterproofing system is vapour permeable (which means it allows moisture to pass through it) is another great benefit (2). This is because it prevents any ventilation problems, as any moisture trapped inside the building is able to pass through the roof and 'escape' and helps prevent damp from forming.
The Advantages of Liquid Waterproofing
• It can be applied on almost any substrate.
• Ideal for complex detailing. Liquid systems are ideal for waterproofing hard to reach places.
• Liquid waterproofing systems can be used all year round (if the temperature remains above zero degrees).
• Completely seamless finish.
• Can be applied with a brush, roller or machine (on large projects).
• Minimal disruption during the installation process.
• Most waterproofing systems have zero toxicity.
• Is suitable to be applied on areas with heavy foot traffic. This is achieved with the addition of a heavy-duty traction coating.
• Highly flexible which allows them to withstand a lot of movement.
• Excellent Tensile Strength
• Long Life Expectancy With Guarantees of 25 years Available
What Is The Best Liquid Waterproofing Product To Use?
A liquid system which is based on elastomeric hydrophobic polyurethane resin technology is the best choice of liquid waterproofing product. This ensures it will have excellent mechanical, chemical, thermal and ultraviolet resistance. This means the liquid waterproofing will perform in all conditions.
Such a liquid waterproofing product can be brush, roller, or spray applied. Once installed it forms a seamless membrane. A liquid product such as Starflex Mono is ideal due to it being resistant to water, frost, and root penetration. It can be used for both blue and green roof waterproofing
Crack-bridging is up to 2mm, even at -10 °C. It is a water permeable membrane, so the surface can breathe. A waterproofing product like this is suitable for virtually all likely substrates, including bitumen felt, GRP, asphalt, single ply, timber, metal, acrylic coatings, EPDM, TPO and concrete substrates. It can also be applied without a primer in some situations.
We believe a product like Starflex Mono is the best out of all the liquid membranes on the market and is ideal to use for flat roof construction and repairs. In both a commercial and domestic liquid waterproofing.
Why Choose RJ Evans For Liquid Waterproofing
• Range of Waterproofing Systems
• Vastly experienced waterproofing team. We have operatives with more than 40 years' experience.
• We provide a range of FREE quotations and solutions for all projects.
• Insurance backed Guarantees.
• Excellent Customer Support throughout project.
• Rated 5 out of 5 from our previous customers.
Get in Touch with RJ Evans Today
If you would like a quotation or any help choosing the correct liquid waterproofing system for your project please get in touch with us or call us now on 01277 375 511. One of our liquid waterproofing specialists will be delighted to help you.
1