Asphalt Balcony Waterproofing and Repairs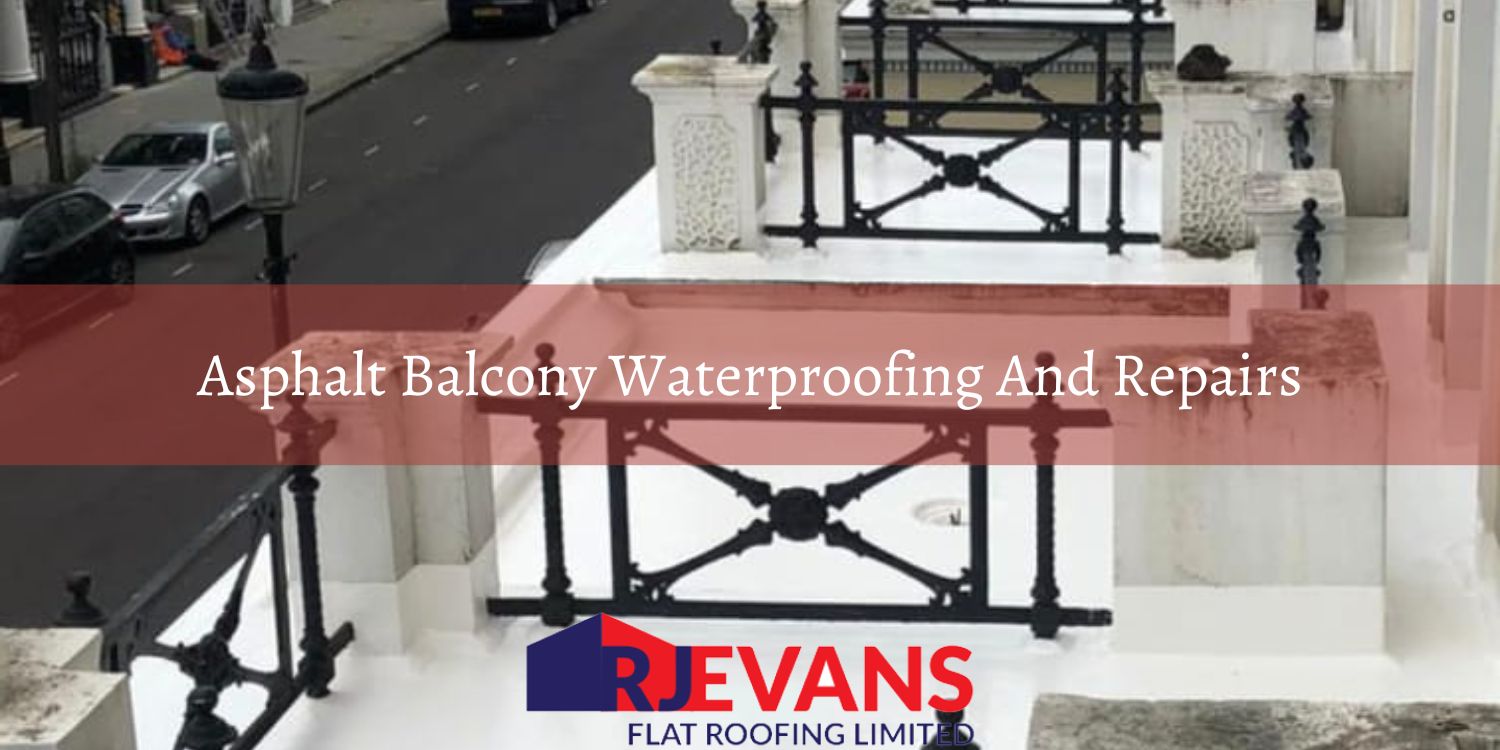 Asphalt balcony waterproofing refers to the process of applying mastic asphalt, a specialised waterproofing material, to the substrate of a balcony or terrace to create a seamless and durable waterproof barrier. This application prevents water from infiltrating the balcony structure. It provides protection from moisture damage, leaks, and deterioration. The mastic asphalt provides a smooth, even surface which is suitable to be left as it is or to have a decorative finish. Mastic asphalt is famous for its excellent waterproofing properties and durability.
Asphalt balcony repair refers to the process of addressing and remedying issues or damage on a balcony's surface which has been waterproofed with mastic asphalt. This repair work involves identifying and addressing cracks, holes, or other forms of deterioration in the asphalt surface. Then restoring its structural integrity and waterproofing function. This process may include cleaning, patching, sealing, and resurfacing damaged areas. The objective is to ensure the balcony remains watertight, safe, and functional. Any balcony waterproofed with mastic asphalt which has shown any signs of deterioration should be repaired as soon as possible to maximise longevity.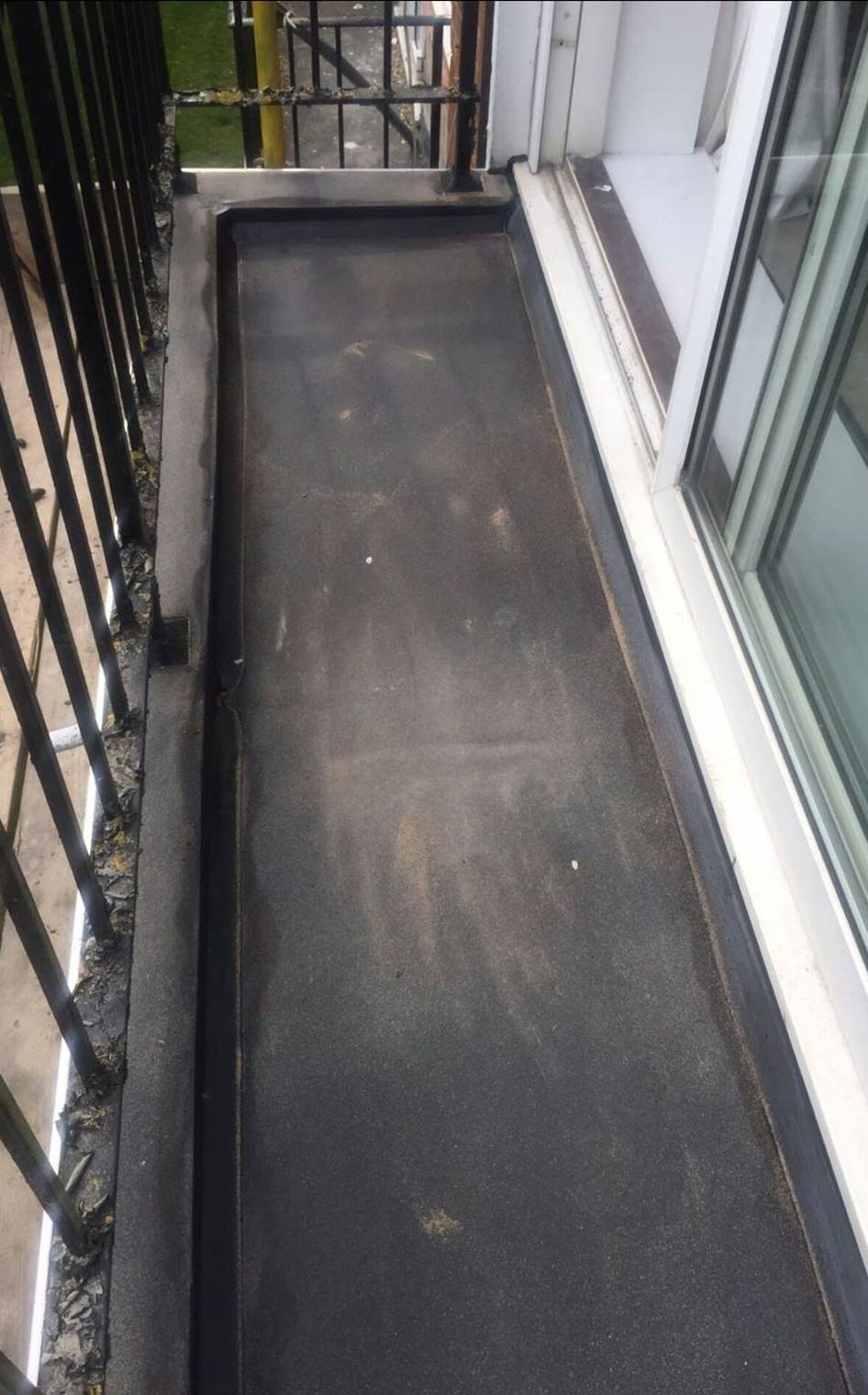 If you would like a quotation or any information about our balcony waterproofing and repair service please get in touch via our contact form or call us now on 01277 375 511.
Why Should You Choose Asphalt For Your Balcony Waterproofing?
Mastic asphalt is known in the construction industry as 'The King of Waterproofing' due to its excellent waterproofing properties. It is also environmentally friendly being the only carbon zero rated waterproofing system. You can often see mastic asphalt as the material of choice for flat roofs and service decks. But it is also frequently used for balcony waterproofing. In a big city such as London, you can see hundreds of balconies which have been waterproofed in this amazing material.
The reason asphalt is such a popular material for balcony waterproofing is because it is very cost effective. Mastic asphalt manages to be cost effective as it is a long lasting and low maintenance balcony waterproofing material. If there is any repair work needed on your balcony it is simply dealt with by an asphalter who will just cut out and remake the affected area. This ease of repair makes it a waterproofing system capable of lasting more than 50 years with the correct maintenance.
A balcony waterproofed with mastic asphalt can also be tiled over, with promenade tiles being a very popular finish. Another common finish is solar reflective paint, this paint is also commonly used on flat roofing. The solar reflective paint finishes the asphalt in an attractive light grey colour whilst protecting the balcony from UV rays. If exposed to alot UV rays many years can be taken from the life expectancy of the balcony. This is especially problematic of the balcony is southward facing.
What Are The Benefits of Asphalt Balconies?
• Asphalt is Carbon Zero Rated (1).
• 100% Waterproof.
• Seamless Finish.
• Perfect base layer to add tiles upon.
• Environmentally friendly waterproofing solution.
• Long lasting with the correct maintenance can last in excess of 50 years.
• UV Solar Protective Paint can be added.
Mastic Asphalt Balcony Repair
If you notice your balcony needs some repair work, this is normally a very straightforward process. What normally happens is the affected area is heated using the hot poultice method. Then the affected area will be removed. The area which has been cut out will be cleaned a re-primed. Then new asphalt will be applied and a fusion joint will be made with the existing asphalt. After this it is advise to cover the whole area with solar reflective paint or if you have tiles just to replace them.
What Are The Signs Your Balcony Waterproofing Is Failing And Needs Repair
• The balcony is leaking.
• Blows in the Surface Of the Balcony (these look like small mounds)
• Pooling Water
• Moss and Lyching Growth
• The asphalt is pulling away from the Coping Stones
• Splits or Cracks in the Balcony
• Slumping in the Surface
• Discolouration (a worn grey look)
Why Choose RJ Evans For Asphalt Balconies
At RJ Evans we have our own Asphalt Mixer this means a flame free laying of the mastic asphalt. Better consistency in the asphalt mixture meaning a more efficient installation process with a better overall finish.
• Vastly experienced asphalt team. We have operatives with more than 40 years' experience.
• We provide a range of FREE quotations and solutions for all projects.
• Insurance Backed Guarantees.
• Excellent Customer Support throughout project.
• Rated 5 out of 5 from our previous customers.
Get In Touch With RJ Evans Today
If you would like a quotation or any information on the installation or repair of a balcony please get in touch with us or call us now on 01277 375 511.
.