Balcony Waterproofing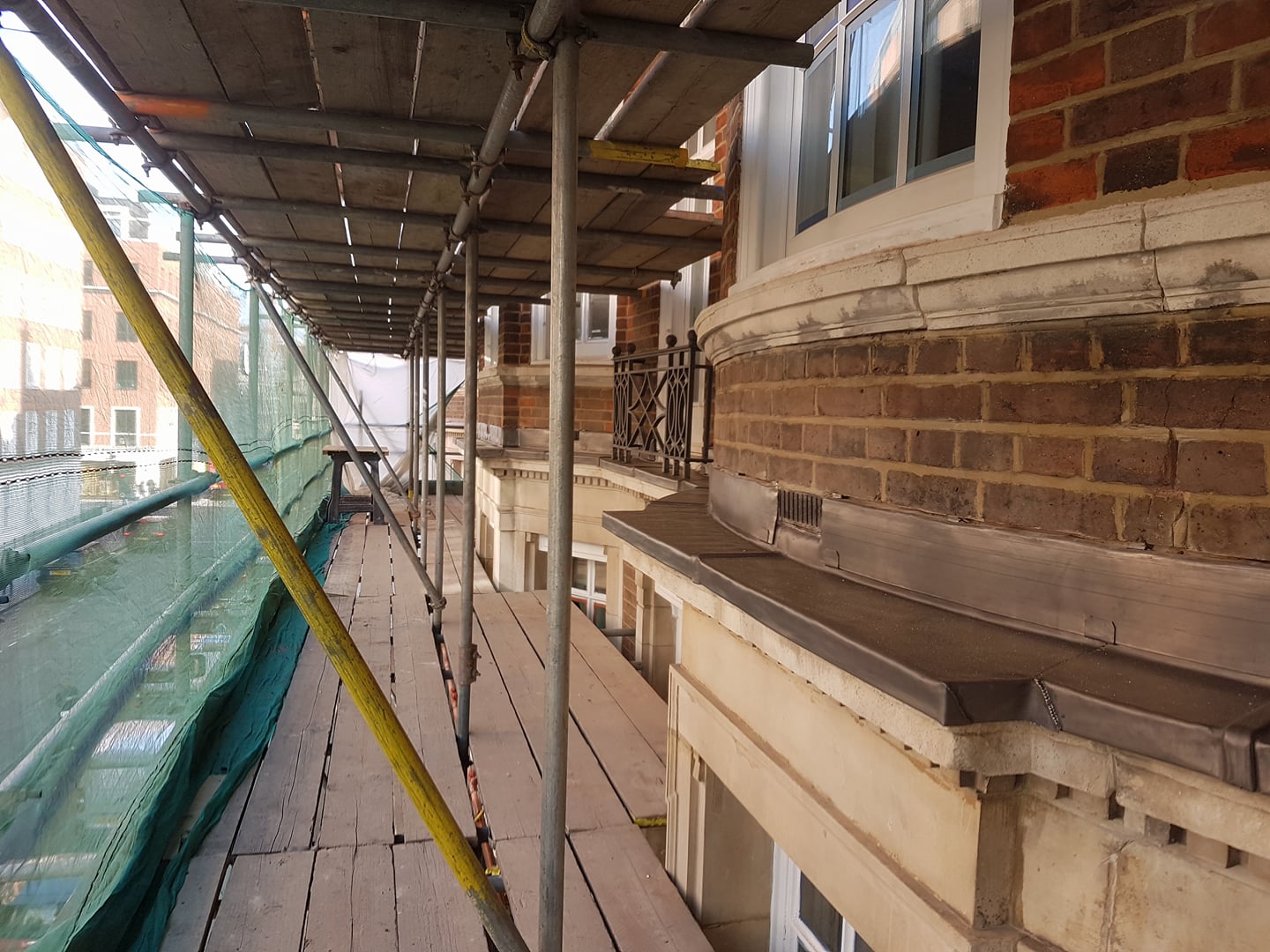 We provide a full range of balcony waterproofing services. This includes repairs to existing balconies which are leaking and the waterproofing of new balconies. At RJ Evans we can provide balcony waterproofing works in a range of liquid systems including asphalt and GRP. Our highly-experienced team covers all of London and the South of England, and are fully accredited waterproofing specialists.
If you would like a quotation or any information about balcony waterproofing please get in touch with us or call us now on 01277 375 511.
Do Balconies Need To Be Waterproofed?
To ensure that areas situated below are not affected by water ingress balcony areas need to be waterproofed. Balcony areas are considered a critical part of a building structure and must be protected by a good standard of waterproofing. By undertaking to waterproof a balcony it helps to protect the substrate structure from cracks forming due to water ingress, especially in cold conditions where it may turn to ice. The resulting extra expansion over time will cause any weak points (cracks) to become worse and over time a complete failure will be the result. Waterproofing stops mould and mildew forming and there is an added benefit of protection from UV rays. Longer term it can also save money, as repairs caused by the above issues can prove expensive.
How Do You Waterproof a Balcony?
There are numerous ways to waterproof a balcony. But by far the best method is to use a liquid as a coating. This coating is the same as used for liquid roofing systems. The reason liquid is ideal for waterproofig is because often there are details on a balcony such as balustrades and outlets that are sometimes difficult to ensure complete enclosure with a single ply or felt membrane system.
Asphalt was the traditional method employed until relatively recently, where the upsurge in quality PU liquids has seen them become the main choice in waterproofing balconies. Certainly, where refurbishment is required, liquids are the easiest method to install.
PMMA is also a viable option, although it has several associated issues regarding fire, strong odour, and solvent. Normally two coats are required. The base coat is the main waterproofing layer and is usually thicker than the topcoat, which is normally the wearing coat. The typical method to waterproof a balcony using a liquid is as follows:
• Prepare the surface for waterproofing ensuring it is clean and dry
• Undertake a peel test and leave for a minimum of 48 hours to confirm adhesion strength
• Fill any cracks and joints with polyurethane sealant or fast curing compound.
• Apply a layer of primer (type dependant on substrate and if peel test dictates).
• Apply a coat of waterproofing membrane to detail and upstand areas
• Apply a layer of waterproofing membrane to horizontal area infuse quartz if anti slip required.
• Apply the finishing layer of waterproofing membrane.
Do Different Substrates Need to Be Prepared Differently?
The simple answer is yes, but all substrates require careful attention prior to works being carried out. There are other differences such as some substrates do not really need a primer, whereas peel tests will prove that some do. Peel tests offer up the evidence of the suitability of materials to be used on any existing substrate.
Ultimately preparation is the most import part of the roof coating process. Some substrates like asphalt will develop cracks and blisters over time and these must be filled or removed prior to works commencing. If an area is tiled (hallway areas for example) it is vital that any loose tiles are fixed back into place. Tiles would often require a different primer than asphalt for example. The most important thing is to ensure that a substrate is dry and free from dust and loose or organic material.
Benefits of liquid waterproofing a Balcony
There are several obvious benefits of using liquid for balcony waterproofing.
• Speed- Typically coating a balcony with a liquid is much faster than installing a seamed system such as felt.
• Seamless- Any system that has seams is more susceptible to failure. A seam is a weak point and prone to fail due to slack workmanship or a weld being missed or welded at the wrong temperature.
• Ease of install – Due to the fast curing and ease of installation there is minor disruption on site.
• No hot works – There are vigorous health and safety requirements nowadays. Post Grenfell (1), flame systems on sites, especially occupied buildings, are becoming less and less acceptable. Liquids are cold works and completely flame free.
• Liquids can offer any colour and the wearing ability of the top coat can easily handle typical walkway traffic.
50M x 20M
The above felt/single ply roof with seams has 732 l/m of seams open to failure.
The above liquid roof has 0 l/m of seams open to failure
The above two images clearly show how the risk of failure is greatly reduced when a liquid roof is used.
How long does a balcony with liquid waterproofing last?
A quality installation should be expected to last between 10 and 25 years depending on the thickness of the liquid layer used. It is this thickness that dictates the life expectancy of the system. For instance, Mariseal 250 with a Mariseal 400 topcoat would use 2kg/m2 of liquid in total. This would be expected to last a minimum of 20 years. Quartz is often used to provide an anti-slip surface. So, in summary, if you use more liquid the warranty period would reflect this.
How much does balcony waterproofing cost?
This typically depends on the amount of product used. The thicker the liquid, the more expense but the longer the warranty period.
In summary, based on a 20-year life expectancy system (using figures from a top liquid roofing contractor) for a 50m2 area supply and install
• Asphalt = £90/£110m2
• PU Liquid = £50/£55m2
• PMMA = £80/£90m2
*All above are guideline prices based on quality BBA rated systems
Is it easy to repair a balcony which has a liquid waterproofing system?
Yes. Simply quarantine and mask off the damaged area. Then carry out a peel test to ensure the liquid will adhere. If it doesn't a primer will be required. If positive and a good adhesion has taken place, then apply a coat of liquid 1.2kg/m2 -2kg/m2. Ensure the area is not trafficked until cured.
Different types of guarantees. There are several guarantees available, although some are more common than others. Any system that does not offer a clear warranty on products should be avoided.
• Materials Only – The most common guarantee available. This states that the material, if applied within the manufacturer's guidelines will last for a given period. Typically, this is between 10 and 25 years. Normally these products are supported by BBA accreditation which reflect how long the life expectancy of the product is expected to perform.
• Labour and materials warranty – This is sometimes requested if a major client requires a belt and braces guarantee. What is means is that both the workmanship and materials are guaranteed to last a minimum of the period stated. These warranties are typically between 20/25 years.
Labour and materials with consequential loss – These are rare and not often given out by systems companies as they are very much nonspecific in as how much the actual damage if there was a failure would be decided on. For instance, a chronic failure of a roof over a banks data centre would be near impossible to calculate. This would more often than not go to an arbitrary organisation to help establish a realistic figure.
How To Maintain A Balcony With Liquid Waterproofing?
A simple maintenance plan can ensure that a balcony will last the period it is expected to.
• Ensure outlets are cleared regularly
• Standing water is sweep away.
• Organic matter is removed.
• The surface is cleaned with a mild detergent monthly
• Any cracks or indentations are dealt with promptly.
*All the above will ensure a life expectancy is easily achieved
Emergency Balcony And Walkway Repairs
Balcony substrates are typically either a concrete or asphalt substrate. Over time these are worn due to foot traffic and general wear and tear. Also, over time cracks can appear due to building expansion or life span of product beginning to fail. Blocked gutters and outlets also often cause water ingress or exit issues.
Short term emergency repairs can be very straightforward, however. The most popular short-term methods to fix a leaking balcony are
• PU coating the substrate with a polyurethane liquid . The substrate would be cleaned, any cracks or damaged substrate should be filled. The area should then be primed, and the product allowed to cure. A single or double coat of PU liquid can then be applied. The curing process can be speeded up if required by the addition of a catalyst . This can enable the system able to take traffic in a very short period (30-45 minutes). An anti-slip product such as kiln dried sand or quartz can be broadcast onto the topcoat as it is coated and simply swept off once cured.
• PMMA coating is another method very similar to the above. However, installation can take longer due to more preparation required with moisture readings and temperature deck readings being a required part of many PMMA system installs. There is also a problem of PMMA having a strong odour, which can have a strong affect on some residents in the vicinity. PMMA also cures quickly and is a good solution for emergency repairs.
Often blocked outlets can be the cause of many problems and should be checked on a regular basis to avoid moisture and water back up along any walkway or balcony area.
Typically, no warranty is issued on repairs and they should only be looked upon as a short term solution as they usually are an indicator of deeper lying issues, such as the existing substrate coming to the end of life and requiring a refurbishment to the area.
What Is The Best Balcony Waterproofing Membrane?
Opinions vary, but the benefits of a PU liquid waterproofing system far outweigh other options because:
• Are quick and easy to install.
• Can cure quickly using a bespoke catalyst and therefore cause minimum disruption to the building.
• Are safe as no flame works are involved in any installation.
• Is able to easily conform to the balcony design as it is a liquid which makes detailing easy
• Adding quartz to the final coat gives a superb anti slip system so increased safety.
• Available in many colours. Standard is Blue Grey RAL 7031
• Many systems have a hard-wearing topcoat option
• Many systems have a proven quality track record for instance MPM & Maris Polymers which are market leading systems used in over 70 countries.
Why Choose RJ Evans For Balcony Waterproofing
• Vastly experienced waterproofing team. We have operatives with more than 40 years' experience.
• We provide a range of FREE quotations and solutions for all projects.
• Insurance backed Guarantees.
• Excellent Customer Support throughout project.
• Rated 5 out of 5 from our previous customers.
Get In Touch With RJ Evans Today
If you would like a quotation or any information about balcony waterproofing please get in touch with us via our contact form or call us now on 01277 375 511. One of our friendly team of waterproofing experts will be delighted to help.
1