TPO Roofing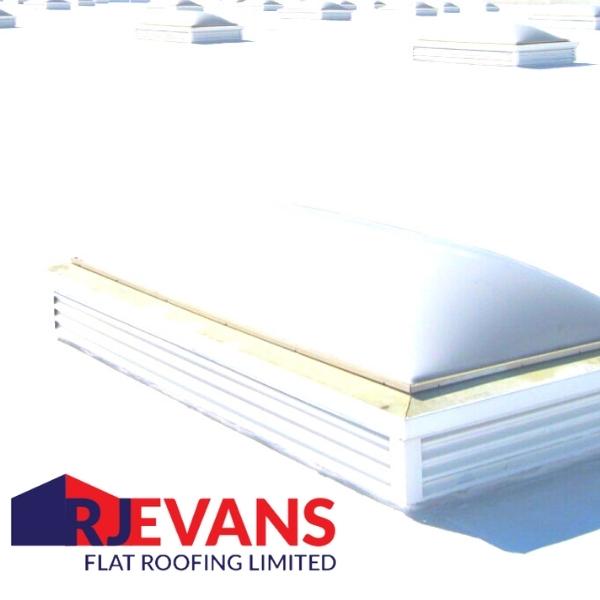 We provide a full range of TPO roofing services. This includes full installation, repairs and maintenance surveys. Our highly-experienced team covers all of London and the South of England, and across the whole of the UK for select projects. All of operatives are fully accredited flat roof specialists. If you would like a quotation or any information regarding TPO roof membranes please get in touch with us or call us now on 01277 375 511.
What Is A TPO Roofing System?
TPO (Thermoplastic Polyolefin) is a polymer single ply roofing membrane which uses hot air to weld the seams. This type of single ply membrane roofing was originally developed in the mid 1980's. It is now one of the most popular commercial roofing systems in the roofing industry. Whilst PVC offers better resistance to puncture and weathering, TPO is recyclable and much more environmentally friendly. UV radiation is reduced as it has a reflective surface, often available in white and light grey in colour. This helps with energy savings as the building is kept cooler. TPO is very good at resisting dirt build-up as it has a smooth surface which does not lend itself to making it easy for grime to establish itself. This means ease of maintenance is a strong point of TPO meaning it is a roofing system which can save you money in the long run as the roof will need to be cleaned less often.
Advantages Of TPO Roofing Systems
• Superior Mechanical Properties: TPO has a tensile strength of > 21 N/mm² and an elasticity of >25%. This makes it well equipped to stand up to adverse weather conditions and thermal movement.
• Superior Ageing Properties: Due to a TPO membrane having an inert nature and no added plasticisers, it has good dimensional stability over time. This means it provides a consistent performance over its full service life.
• High Flexibility At Low Temperatures: The polymers used in the design of TPO roofing membranes are permanently flexible. This means they can be installed with great success in the in the extremes of ambient temperature. A TPO roofing membrane can have cold temperature flexibility down to -45°C. This is one of the installation advantages of TPO, as it can be installed at very low temperatures and endure the substrate movements which occur during extreme winter conditions.
• Dimensional stability: The TPO membrane has good dimensional stability, as it is inert, with limited shrinkage (<0.1%).
• Lightweight: TPO has a low specific weight 1.14 kg/m² @ 1.1mm vs. 7-10kg/m² for 2 ply bitumen system. Superior micro bacterial resistance meaning it stays lighter for longer.
• Resistant To Puncture And Abrasion: Excellent static (point load of 25 kg) and dynamic puncture resistance (10mm with no penetration).
• Vapour Permeable: TPO is permeable to moisture vapour with a µ-value of 60.000.
• Choice of Colours & Reflectivity: TPO offers a choice of colours for greater aesthetic dynamics and offers high reflectivity which may help to reduce a building's summer cooling costs.
• Allows For Hot-Air Seaming Techniques: This forms a strong watertight and airtight seam. This is potentially stronger than the welded materials, helping to maximize the longevity of products.
• Root Resistant: TPO is FLL tested. It is root resistant making it an ideal choice of waterproofing for green roof situations.
• Low Environmental Impact: TPO membranes are not vulcanised.They are hot air weldable and completely recyclable. This allows the re-use of left over parts of TPO membranes without diminishing any of the benefits TPO provides. The low environmental impact of TPO roofing is furthered due to the lack of plasticizers, non-halogenated formulation, and recyclability
• Outstanding Ageing Properties: Actual field experience has proven TPO performs satisfactorily over 20 years.
Specifying The Correct Installation Is Important.
A loose laid system has slope limitation and requires a structure which takes the ballast's weight. This is quite a restrictive system. A fully adhered system is perfect for concrete decks and wind lift risk is greatly reduced. A mechanically attached system, although often more cost effective, requires a wind up-lift report study, alongside a valid fixing method. Inverted is another option, but this would need a geotextile protection from ballast.
Once a system is selected, the type and thickness of the TPO membrane can be decided upon. Typically, 1.2mm/1.5mm and up to 1.8mm are the thicknesses available. The width of the sheets can also vary and are normally around 1M or 2M wide. A walkway system may be required also. This is where a different colour membrane is tack-welded as a pathway around areas which are set out to access plant for maintenance etc. Requirements, such as fire and/or wind, will also be deciding factors for the selection of the system used and the type of membrane.
The Life Expectancy Of TPO Roof Systems
TPO flat roofs typically lasts a maximum of about 30 years. It is less affected by UV than PVC and a longer lifespan would be expected. Installation by a good roofing contractor combined with regular maintenance surveys will increase the probability of a TPO roof reaching it's maximum service life.
How Much Does A TPO Roof Cost?
Based on a warm roof installation, typically anywhere between £70/£90m2 supplied and installed.
Disadvantages of TPO Roofing Systems
TPO is a single ply roofing membrane and is not designed to take on heavy foot traffic. In the absence of a walkway area on the deck, means certain types of footwear may damage the roof. TPO is slippery when wet.
If the roof is exposed to constant UV rays the adhesive will degrade, which means it will in turn allow water to penetrate those areas where it was used. This will in turn speed up the degrading process of the adhesives used to secure the roof. This eventually effects the seams making these areas along your entire roof vulnerable to leaks.
As a TPO roof starts to age it will also start to crack. This will show up usually around the 13–15-year mark. If not properly maintained, it will be a lot sooner. When any cracks appear, it will allow water to infiltrate the roofing system. It may not leak into your home/building to start with, but the water will run underneath the flat roof destroying its adhesiveness. As the adhesiveness is reduced, the roof will lift and by this point you could have severe water damage.
Detail areas are difficult to fully waterproof. So, a roofing installation with pipework or rooflights have to have maximum care taken to ensure a watertight finish. In most cases, other roofing materials notably seamless systems are preferred as the weak points are greatly reduced.
Have Any Questions About TPO Roofing?
If you would like advice on whether TPO is suitable for your situation, a quotation for a new roof. Or if you need any help or advice about TPO roof repair or maintenance, please get in touch. You can do this through our contact form or call us on 01277 375 511. One of our friendly expert team will be delighted to help you.
1