Mastic Asphalt on Inverted Roof on Concrete Decks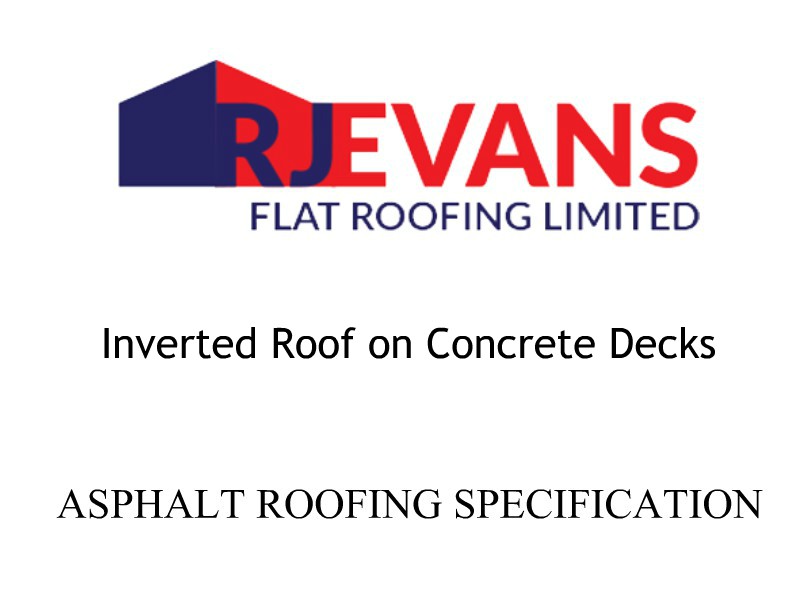 On Concrete Deck
20mm two coats of mastic asphalt R988 T25 on sheathing felt.
Or:
20mm two coats of polymer modified asphalt on sheathing felt.
Decks
The concrete requires a wood float finish or screed with a wood float finish. Temporary drainage holes should be created in the concrete structural slab and the deck should be suitably drained and dry before roofing commences.
U-Values
When calculating board thickness to achieve a specific U-value, it is necessary to legislate for the loss of efficiency once the board is installed because of the effect of rainwater draining under the insulation.
It is normal to add an extra 20% to the thickness of the insulation to allow for this.
Below you can see the U-Values (W/m2K) provided for the total roof construction using a vareity of different thickness for the insulation board.
150mm In-Situ Cast Concrete Slab
| Thickness of Insulation (mm) | | | | |
| --- | --- | --- | --- | --- |
| 50 | 75 | 90 | 100 | 120 |
| 0.56 | 0.39 | 0.33 | 0.30 | 0.26 |
Please click the following link for more information: Asphalt Roofing