Slate Roofing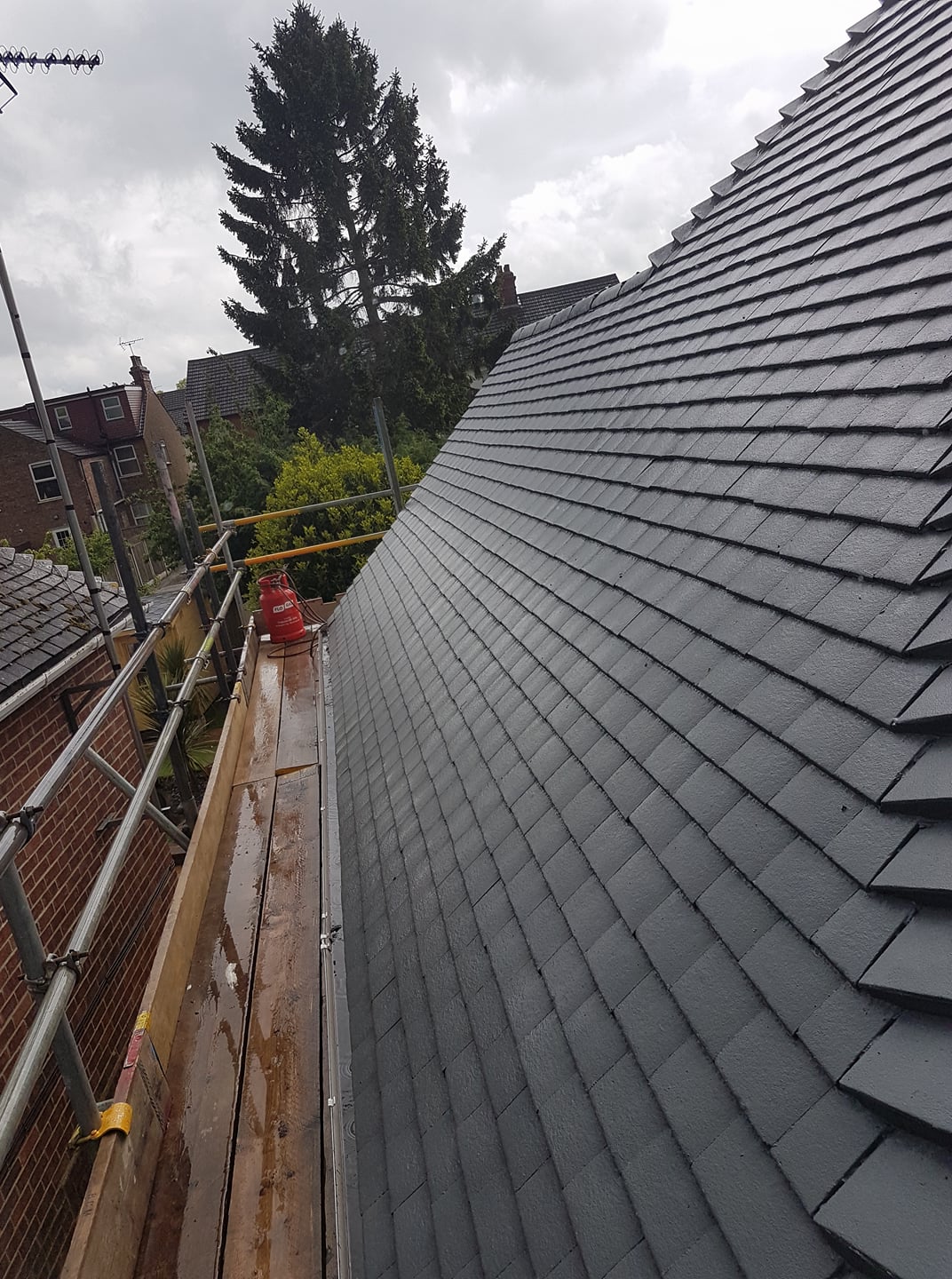 As one of the leading roofing companies in the UK, we provide a full range of slate roofing services. This includes new slate roofs and slate roof repairs. Our highly-experienced team covers all of London and the South of England, and are fully accredited roofing specialists.
If you would like a quotation or any information on slate roofing please get in touch with us or call us now on 01277 375 511.
Slate Roofing is a roofing system which is commonly used across Great Britain. The reason for slates huge popularity is down to its attractive appearance, safety and extreme durability.
Slate Roofing is Extremely Durable
Slate is so durable it's life expectancy can be up to 100 years. This is one area in which slate excels in comparison to other roofing systems which have a shorter lifespan of between 10 and 50 years.
Due to this phenomenal durability slate is a great investment when you consider its cost per year of service a slate roofing system provides.
What is Slate?
Slate is a metamorphic rock. This rock is found in abundance across the UK perhaps most famously in Wales and Cumbria. In recent times a large amount of slate is imported from Brazil. Slate comes in a variety of colour depending on its geological make up. These colours include all shades of grey, as well as reds, browns, purples and blacks.
Slate Roof Repairs
RJ Evans are able carry out all types of Slate Roofing repairs. IF you notice a tile has become loose or damaged it is imperative you get in touch as soon as possible to prevent a more serious and expensive roofing problem developing.
Not only is a loose tile dangerous for your roof's integrity, it is also a health and safety risk for people in the proximity of your roof.
The Advantages of Slate Roofing
• Very Long Lifespan and Extremely Durable. As mentioned above slate roofing can last for 100 years. Which makes it unrivalled as a roofing system when it comes to longevity.
• Aesthetically Pleasing Finish. Natural slate is a natural stone and for this reason synthetic products struggle to replicate its beauty.
• Easy to Cut into Thin Sheets. Slate is a rock which is easy to separate into thin sheets which is an ideal characteristic for a roofing tile. As it ensures it is not too heavy to work with.
• 100% Fire Resistant. Slate is completely fire resistant. You may have noticed it is used for fire hearths and fireplace surrounds. Having a slate roof and knowing it is fire resistant provides peace of mind for the property which it protects.
• An Environmentally Friendly Material. Slate is both a natural material and a long-lasting roofing system. This means less waste is produced due to the long period of time needed between re-roofs (up to a century). When you compare this to synthetic roofing systems with shorter lifespans you can see how slate is an environmentally friendly choice for a roofing system.
Why Choose RJ Evans For Slate Roofing
Experienced team of fully accredited Slate Roofing Specialists. We have operatives with more than 40 years' experience.
We provide a range of FREE quotations and solutions for all projects.
Insurance backed guarantees.
Excellent Customer Support throughout project.
Rated 5 out of 5 from our previous customers.
Get In Touch With RJ Evans Today
If you would like a quotation or any information on Slate Roofing please get in touch with us or call us now on 01277 375 511
1