EPDM Rubber Roofing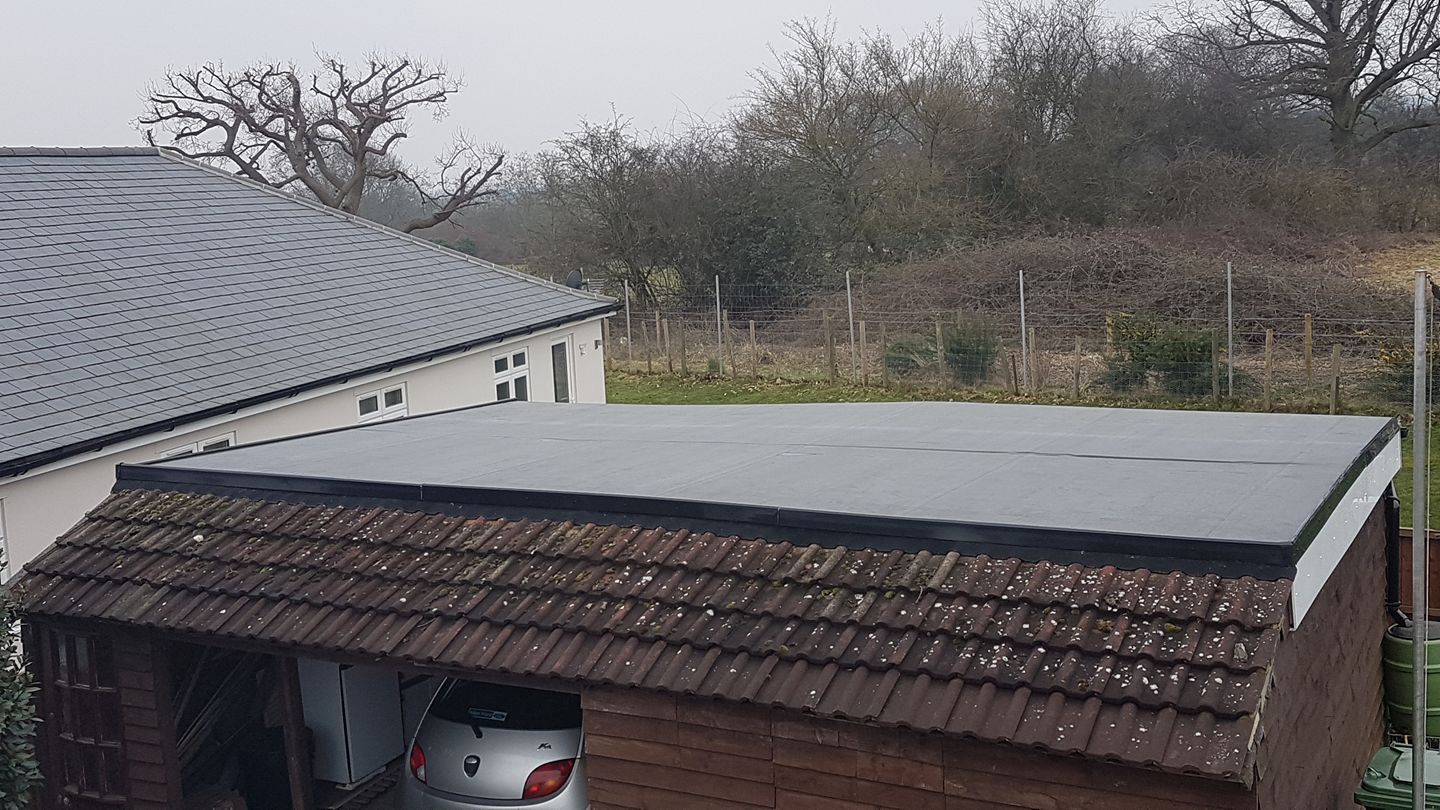 We provide a full range of EPDM rubber roofing services. This includes both installations and repairs. Our highly-experienced team covers all of London and the South of England, and are fully accredited flat roofing specialists. If you would like a quotation or any help regarding a rubber roofing project please get in touch with us or call us now on 01277 375 511.
EPDM Flat Roofing Systems
EPDM is a very strong, hard to penetrate in normal use, synthetic rubber roofing membrane. It is called ethylene propylene diene terpolymer. EPDM rubber roof membranes are extensively used in low fall designed industrial buildings. It was developed in the USA and was typically installed in a mechanically fixed way using wide rolls of product. This meant it was extremely fast to install. Originally used on roofs with low design criteria. This means large flat roofs with minimal pipework or plant on the surface.
Its two main ingredients, ethylene, and propylene are derived from oil and natural gas. It has a longer than normal life expectancy as it is not as affected as much by UV as some other flat roofing products like PVC and felt. Well over 1 billion square metres of EPDM have been installed worldwide (1) since it became established as a membrane for commercial flat roofs. This is in no small amount due to its used as a flat roof material on large industrial and warehouse buildings across the United States.
To this day manufacturers continue supplying EPDM rubber roofs across America, where, it remains a popular waterproofing and ponding solution. Another reason for its popularity of this roofing material is the ability of the EPDM membrane to be weather resistant in extreme conditions both hot and cold. It can be installed as either a ballasted, fully adhered or mechanically fixed system. This makes it ideal for any roofing substrate. Worldwide EPDM rubber membranes market share stands at $5.1billion (2) and between 10% and 14% of all construction projects. Not just roofing, but all types of waterproofing; including damp proofing and tanking. Worldwide it is fair to say it is the most widely used single ply roofing membrane.
Benefits Of Choosing An EPDM Membrane For A Flat Roof
• A quick and easy installation method: EPDM membranes are available in large sizes from 1.5M wide up to 15M wide. This means if the roofing project is clear massive areas can be installed in a very short time frame as the need to create a watertight seal for seam laps is drastically reduced.
• Very Durable: EPDM is very strong and does not contain plasticizers or flame retardants. It stays very stable over prolonged periods and is a very sustainable waterproofing solution as a consequence.
• Extremely flexible: EPDM remains flexible up to -45 degrees and its elongation is over 300%. This makes it ideal when coping with building movements.
• Low Maintenance: EPDM requires little effort to maintain. Normally, only a jet wash and the removal of organic matter is needed. It is also fully recyclable, which in modern construction is very important.
• Eco Friendly: EPDM membranes are an inert material and contains very limited toxic products. It is perfect for providing the waterproofing underneath green roofs.
Main summary of benefits for an EPDM roofing system; low installation cost, fewer seams meaning less potential water entry points, fast installation, long lasting and easy to maintain.
Environmental Benefits Of EPDM Rubber Roofs
• Refurbishment suitability
• Longevity
• Recyclability
• Cold application
• Chemically Inert
• Reduced VOC's.
Key Features Of A Rubber Roof
• Superior mechanical properties
• Good tensile strength and high elasticity
• Superior ageing properties
• Totally inert: no change in characteristics
• High flexibility at low temperatures
• Dimensional stability
• Light weight
• Resistant to moisture
• Resistant to puncture and abrasion
• Vapour permeable
• Low Environmentally Impact.
Typical Installation Method of an EPDM Flat Roof System
Is EPDM Roofing A Good Solution?
An EPDM roof is very long lasting. It requires minimal maintenance. An EPDM roof can last over 50 years. EPDM modern formulas are virtually impervious to radiation and damage from sunlight. They are very strong and easy to repair by just using a seam patch section.
What are Typical Problems With EPDM Flat Roofs?
As with many flat roofing systems the most common problems are often down to poor installation. Other common EPDM roofing problems are punctures or damage to, the rubber roofing material. However, this can be easily fixed.
Is EPDM Good For DIY Roofs?
It is an easy system to adhere down and with some care it is possible to put down on a roof surface. But in reality, only trained roofers should be installing any roof product.
How Much Is EPDM To Install?
EPDM roofing costs are much the same as PVC roofs. So, expect to pay at least £50m2 for a cold roof and up to £120 for a warm roof installation.
Can EPDM Go Onto Any Substrate?
Yes. EPDM is suitable for any substrate, although it is suited to some much more than others.
Can I Use A Liquid EPDM Roof Coating?
Yes. liquid systems can be applied as an EPDM roof coating. The main importance here is to use the correct primer. Alphateq Waterproofing have a precise solution and an exact tried and accredited primer. A roof coating onto an EPDM, or indeed any existing flat roof can vary from £35 to £55 per square metre depending on the substrate condition.
The Advantages of Choosing EPDM Rubber Roofing
• EPDM Rubber Roofing requires minimal maintenance once it is installed. If roof repair work is needed this is normally an inexpensive straightforward process.
• Rubber Roofing Systems are highly flexible even in low temperatures. Some rubber roofing membranes can elongate over 300%, meaning a rubber roofing system can tolerate building movements for decades.
• Rubber Roofing Systems can be installed all year round.
• EPDM Rubber Roofing can cope with irregular roof shapes.
• Very affordable when compared to other roofing systems on the market such as GRP/Fibreglass.
• Fire Resistant.
• Can fix to almost any substrate.
• Synthetic material prevents the growth of moss and algae.
• EPDM does not need any naked flames to be used by the roofers during the installation process. A cold applied adhesive is used to adhere the membrane to the substrate.
• Environmentally friendly product. Rubber Roofing has a limited impact on the environment during both the manufacturing and installation process.
Why Choose RJ Evans Flat Roofing For EPDM Rubber Roofing?
• Experienced team of fully accredited EPDM Rubber Flat Roof Specialists. We have operatives with more than 40 years' experience.
• We provide a range of FREE quotations and solutions for all projects.
• Insurance backed guarantees.
• Excellent Customer Support throughout project.
• Rated 5 out of 5 from our previous customers.
Get In Touch With RJ Evans Today
If you would like a quotation or any further information regarding the installation or repair of an EPDM rubber roof please get in touch with us using our enquiry form or calling us on 01277 375 511. One of our friendly team of experts will be delighted to help you with your flat roofing project.
1