Roof Repair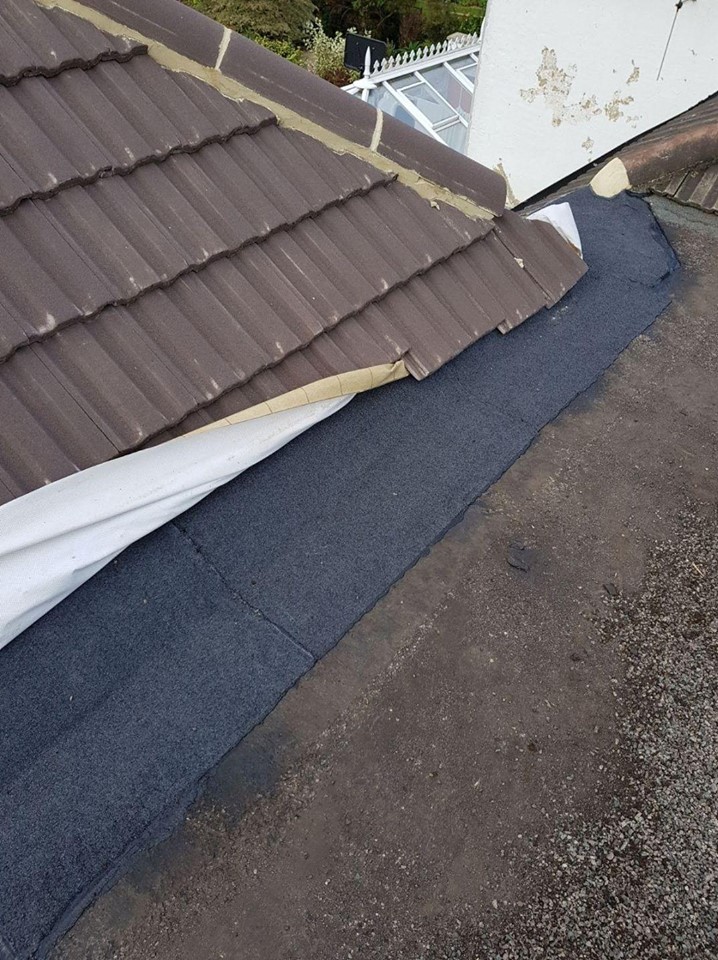 We provide a full range of roof repair services. This service provided by our roofing company covers everything from the smallest roof repair to large scale commercial roof repairs. Our highly-experienced team covers all of London and the South of England, and are fully accredited roofing specialists.
If you would like a quotation or any information about our roof repair service please get in touch with us or call us now on 01277 375 511.
What To Do If you Think you Need Roof Repair Work
Perhaps you have noticed a problem with your roof. Maybe there is a slight tear in you felt roof or your GRP roof has started to have areas pool water.
It could be a different problem all together like a small leak coming through your ceiling. Whatever your issue it is best to act fast to prevent a small issue becoming a larger one. Roofing problems don't reverse themselves they only become worse (and more expensive).
The best thing to do is to get in touch with a roofing professional who will come and assess your roof. And tell you the best way to go about fixing the issue. We provide FREE quotations for all roof repair work. And most of the time the required repair work is inexpensive and results in the roof being trouble free for many years after the repair is completed.
Roof Repair Work We Carry Out
General Repairs
This covers small roof cracks, repointing and leaks of all types. These problems are important to take care of as soon as possible because they can develop in to more serious problems if left without repairs being made.
Tile Replacements and Repair
If any tiles come loose it is very important to fix this issue immediately. Primarily for safety reasons as a falling tile can cause significant harm to somebody. Secondly a falling tile can cause damage to your property. And lastly a slipped or fallen tile will compromise your roof's integrity.
And if you have any damaged tiles it is important to fix them as damaged tiles will turn into loose or fallen tiles which for the reasons mentioned above you want to avoid at all costs.
Gutter Repair and Replacement
Your guttering is an important part in your roofing system. It is important if is functioning correctly to drain away rainwater from your roof.
If your gutter is not working correctly you may notice it overflowing during periods of heavy rainfall. This could be down to your gutter being clogged with debris or a structural issue.
To minimise any problems caused by debris it is a good idea to have a regular gutter cleaning service. If you suspect you have a guttering problem it is best to contact a roofing professional as soon as possible to ensure the problem does not become more serious.
Weather Damage
It is common for an apparently well-functioning roof to fail during period of extreme weather. This could be for several reasons. The most common being undetected small problems becoming much more serious one due to the extreme weather placing large demands on your roofing system.
If you encounter such a problem it is best to get a professional at as soon as possible to:
1) Fix the immediate problem
2) Check for any more issues with your roof.
Roof Replacements
Every roof comes to an end of its working life time. When this happens a full roof, replacement is needed. There numerous solutions to this problem depending on the condition of your roof and its structure. It can be anything from a simple liquid overlay to a complete GRP re-roof.
Whatever the situation one of our friendly team will be happy to provide you with FREE no obligation advice. Just get in touch with us.
Why Choose RJ Evans For Roof Repair
Vastly experienced repairs team. We have operatives with more than 40 years' experience.
We provide a range of FREE quotations and solutions for all projects.
Insurance backed Guarantees.
Excellent Customer Support throughout project.
Rated 5 out of 5 from our previous customers.
Get In Touch With RJ Evans Today
If you would like a quotation or any information on Roof Repair please get in touch with us or call us now on 01277 375 511.
1