Polyurea Coating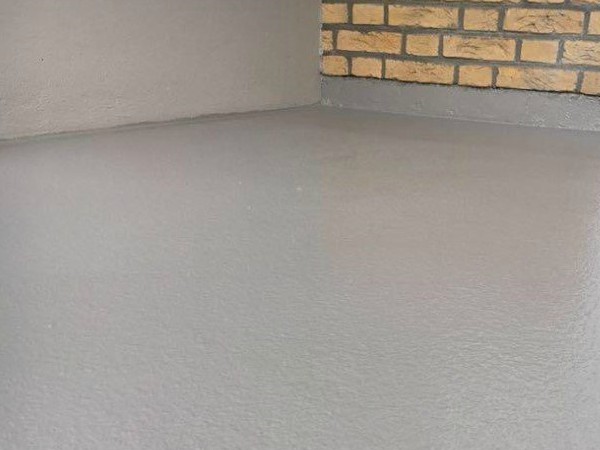 At RJ Evans, we have a specialist polyurea coating team. This ranges from waterproofing roofs to flooring, decking and walkway waterproofing. Whatever your need a polyurea coating for we can help. If you like some advice of a quotation you can email us at the following address estimates@rjevansroofing.com or call us now on 01277 375 511.
What is a Polyurea Coating?
A polyurea coating is a lining and joint sealing technology. This unique coating is a tough synthetic polymer1 which has several attributes which make it perfect for waterproofing. It has water tight qualities and excellent resistance to both chemicals and abrasion.
Coatings with polyurea also boast excellent tensile strength and tear resistance.
This excellent tensile strength2 makes a polyurea coating a unique liquid waterproofing system. The reason for this is a polyurea coating unlike other liquid systems does not require to be reinforced with chopped strand matting.
The benefit of polyurea's tear resistance makes any surface it coats suitable to endure heavy foot traffic. This makes a polyurea coating stand out when compared to other waterproofing systems such as EPDM rubber.
Furthermore, polyurea is a completely liquid system so not only will there be a seamless finish it will also easily waterproof notoriously hard details on flat roofs, flooring and other applications. Such details include plant machinery, soil vent pipes, skylights and air vents.
A polyurea coating also boasts low Volatile Organic Compounds (VOC's)4 and produces no toxic fumes.
With a polyurea coating you can receive a guarantee of up to 25 years depending on the application.
Polyurea is truly one of the best waterproofing systems on the market. In many ways, it rivals 'The King of Waterproofing' mastic asphalt. And it is significantly cheaper than mastic asphalt due to a significantly shorter installation process. If you are looking for a highly reliable waterproofing system, which is budget friendly a polyurea coating might just be what you are looking for.
The Benefits of Choosing a Polyurea Coating
• Fast Installation which minimises disruption
• Cost Effective
• Seamless Finish
• Excellent Tensile Strength
• Excellent Tear Resistance
• Watertight Qualities make Polyurea excellent for waterproofing
• Does not require to be reinforcement with chopped strand matting
• Excellent for complex detailing
• Can endure heavy foot traffic
• Contains Low Organic Volatile Compounds(VOC)
• Emits no toxic fumes
• Excellent Resistance to Chemicals
• Excellent Resistance to Abrasion
• Fast Curing Time
• Excellent adhesion to metal and concrete even when damp
• Can be applied in temperatures as low as -30° C
Common Problems with Polyurea Coatings
Due to the installation process of a polyurea coating looking so fast and simple there is a common misconception it does not take much skill to apply. This is not true. To get all the benefits a polyurea coating must be installed by an accredited waterproofing specialist. If not some of the common problems of a polyurea coating are likely to occur.
Incorrect Mix
An extremely frequent problem with a polyurea coating is an incorrect mix before waterproofing commences. If this step is not carried out properly the application which has been coated will suffer from a multitude of problems Below we will look at these common problems in more detail.
Two-component products must always be mechanically mixed, preferably with a continuously adjustable mixing machine or drill.
Use a suitable mixer or whisk of the correct size. As a guideline, the diameter of the mixer or whisk must be at least 1/3 of the diameter of the container in which the product is mixed. First, mix the base component and the hardener together.
Pour some of the mixed material back into the hardener container and mix it in the container until all the hardener has been used.
Next, pour this mixture back into the base component container and mix it again until a homogenous mixture is obtained. When combining partial containers, both components must be carefully stirred and weighed.
Not Adhering to the Substrate
Due to polyurea having an extremely fast curing time it is extremely unforgiving if any mistakes are made. The areas in which mistakes are most often made in relation to adherence include, priming, coating, surface preparation and mixing. Because of the excellent tensile strength of polyurea it will not chip and flake like other liquid systems if adherence is not achieved. Instead it will pull away from the substrate in one large sheet.
Poor Surface Preparation
With a polyurea coating the surface of the substrate must be prepared correctly. It is very frequently the case with non-specialist polyurea coating specialists to see the preparation stage rushed and for a multitude of problems to follow. The most common of these problems are non-adherence as mentioned above or blistering. Below we will detail the correct preparation for a polyurea coating for various substrates.
Mineral Surface Preparation
All concrete surfaces must be at least 28 days of age. The substrate must be absorbent in nature. The surface must be healthy with a minimum compression strength of 25N per square millimetre and a minimum bond strength of 1.5N per square millimetre. The surface must be clean and free of diesel, oils and grease. All loose friable materials and foreign bodies must be removed by abrasive blasting, captive blasting or high pressure water blasting. This is to remove all surface laitance.
Monolithic floors and formed surfaces must be abrasive blasted or other preparations means to clean and profile. The surface should be free of any water film. The surface must be free from rising water from the subsoil. For heavily loaded systems, such as rooftop car parks and petrol stations, where torque may play a role, it is recommended to lightly mineral-surface the primer layer using kiln-dried quartz sand 0.4 to 0.8 mm.
It is imperative to apply conservatively, there should be no dense granular structure. The usage on mineral surfaces will be 200 to 250 gram per square metre. Avoid any uneven thicknesses.
Wooden Surface Preparation
The surface must be clean and free of diesel, oils and grease. The usage will be 100 to 150 grams per square metre. Avoid any uneven thicknesses.
Metal Surface Preparation
The following applies in general. The surface must be free of substances which may have a negative effect on adhesion, such as oils and fats. If these types of substances are present, they must first be removed with the appropriate agents and/or tools.
Steel, blasted
• Surface blasting, Sa 2½, 75 -100 microns, DIN EN ISO 12 944. Then thoroughly remove all dust. Formation of surface rust must always be avoided.
• Pre-treat the surface with adhesion promotor.
• Apply primer to the surface with a spread of 100 to 150 grams/m2. Avoid any uneven thicknesses.
Aluminium
• Thoroughly sand mechanically until the surface is matt and remove all dust.
• Pre-treat the surface with adhesion promotor.
• Apply primer to the surface with a spread of 100 to 150 grams/m2. Avoid any uneven thicknesses.
Stainless steel
• Surface blasting, Sa 2½, 75 to 100 microns, DIN EN ISO 12 944. Then thoroughly remove all dust.
• Pre-treat the surface with adhesion promotor.
• Apply primer to the surface with a spread of 100 to 150 grams/m2. Avoid any uneven thicknesses.
Surface Contamination
Contamination is a common problem when applying a polyurea coating. This ties in with poor surface preparation which we covered above. If the substrate has been correctly prepared but not correctly cleaned the polyurea will start to pull away from any dust, oil or grease in contact with it.
The degree in which the polyurea pulls away from the substrate will depend upon the amount of contamination. The effects of contamination can also result in the coating blistering. Thermal contraction can accelerate the effects of contamination.
The Conditions When the Polyurea Coating is Applied
Although polyurea coatings perform better than nearly every other system across a wide range of weather conditions and temperatures. It does have some limitations which are not often mentioned. Polyurea is sensitive to moisture if the substrate is within 3 degrees of dew point.
Any polyurea coatings which are applied to a substrate which is within 3 degrees of dew point is likely to result in a failure. The coating will in most cases pull away from the substrate in one large sheet. To avoid this happening do not risk applying a polyurea coating to a substrate which is within 3 degrees of dew point.
Blistering
As mentioned above blistering in the Polyurea Coating is a common problem. This phenomenon can be caused by several defects. If blistering is identified in a polyurea coating it is important to diagnose the cause to prevent it reoccurring.
Once a blister is identified you should cut it out of the coating and analyse it. If the back of the underside of the blister is smooth. The likely cause is moisture or substrate contamination. If moisture is the cause the blister occurs as the moisture tries to escape the roof.
And if contamination is the cause the blister is caused as the polyurea coating pulls away from the substrate. To fix a blister with a smooth underside the substrate should be thoroughly cleaned. Then re-primed. And finally, the polyurea coating should be reapplied.
If when you inspect the blister the back is rough this is an indicator of either moisture being present between the coating and substrate or the polyurea being isocyanate rich. To rectify this situation, you must ensure the substrate is dry. And check your spray machine if the coating is spray applied.
Once you are sure there is no moisture in the substrate or in the spray machine you can apply primer and a new polyurea coating. If you do find no moisture in either the spraying equipment or the substrate the cause of the blistering is from a poor mix of polyurea.
If the underside of the blister feels gummy upon inspection, this indicates a problem during the mixing process or the primer not curing correctly. It is important to ensure the primer has cured not only dried before applying a polyurea coating. If this blistering is caused by a poor mix of the polyurea, the cause is due to the mix containing too much resin. To fix this problem re-apply a correctly cured primer and apply a properly mixed polyurea resin.
Pinholes in the Polyurea Coating
A polyurea roof can suffer from pin holing. The reason for this is most often when the polyurea is being spray applied to a roof or any other application with a porous substrate which has not been correctly sealed. The process of hot polyurea being spray applied to the substrate causes any trapped moisture within the substrate to outgas and push through the wet freshly applied polyurea coating before any film is formed.
If you notice this problem on your polyurea coated surface the best course of action is normally cheapest to apply another coat of primer to seal the surface completely. On smaller areas, the holes can be filled with polyurethane mastic and resprayed with polyurea once cured.
During summer months, a precaution you can take when applying a polyurea coating is to apply it in a falling temperature rather than a rising one.
Cavities
Cavities can form when a polyurea coating is applied to thickly around the details on the application which is being waterproofed. These cavities look like melted candle wax along the sides of a candle once it has melted.
The best way to avoid any cavities forming is to apply the polyurea coating to the details of the application prior to coating the main surface.
Blow Holes
Blow holes are most often seen when applying a coating to a concrete substrate. Small hole can be present in the concrete due to trapped air being forced against the shutter as the concrete is poured. To prevent blow holes forming prior to priming the concrete substrate should be filled with an epoxy or cementitious resin. Once dried the surface should be thoroughly cleaned with a jet wash then primer should be applied prior to the application of a polyurea coating.
However, if you notice the blow holes when the polyurea coating is being applied. You should stop and fill in the area which is suffering from the blowholes with polyurethane jointing compound, then re-apply the polyurea coating. It is important to stop as soon as you notice the blow holes as if this problem of blow holes is across the whole roof, you will have many holes to fill. And by the time this is done the recoat window may have shut.
Why Choose RJ Evans As Your Polyurea Coating Contractors
• Vastly experienced asphalt team. We have operatives with more than 40 years' experience.
• We provide a range of FREE quotations and solutions for all projects.
• Insurance Backed Guarantees.
• Excellent Customer Support throughout project.
• Rated 5 out of 5 from our previous customers.
If you would like RJ Evans to provide a quotation or providing any information relating to polyurea coatings please get in touch with us by emailing estimates@rjevansroofing.com or call us now on 01277 375 511.