Leak Detection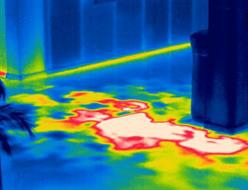 We provide a leak detection service. This includes state of the art thermal imaging and covers all aspects of roofing. We are able to help you whether it is a leak detection survey on a residential or commercial building. Our highly-experienced team of surveyors covers all of London and the South of England, and are fully accredited and trained leak detection specialists.
If you would like a quotation or any information about leak detection please get in touch with us or call us now on 01277 375 511.
State of the Art Thermal Imaging Cameras for Leak Detection
Our surveyors use state of the art thermal imaging cameras to provide the most accurate leak detection surveys available. These thermal imaging cameras find hidden leaks which may not be picked up by the naked eye on a stand survey. Thing which can be identified are leaks inside pipes and underneath concrete or behind plant equipment. Thermal imaging is the definitive way to accurately carry out leak detection.
Why Choose RJ Evans For Leak Detection
• Experienced team of fully accredited Leak Detection Surveyors.
• We provide a range of FREE quotations and solutions for all leaks.
• Insurance backed guarantees provided on works.
• Excellent Customer Support.
• Rated 5 out of 5 from our previous customers.
Get In Touch With RJ Evans Today
If you would like a quotation or any information on Leak Detection please get in touch with us or call us now on 01277 375 511
1