Lead Flashing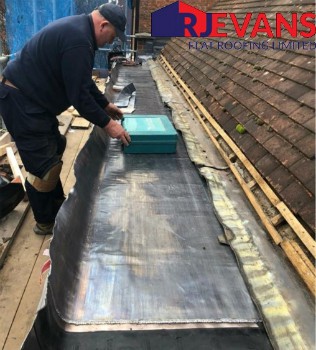 We provide a full range of lead flashing services. This includes both traditional lead flashing and modern flashing solutions. Our highly-experienced team covers all of London and the South of England.
If you would like a quotation or any information which you cannot find on rjevansroofing.com about lead flashing please get in touch with us or call us now on 01277 375 511.
Lead flashing can be seen in many different places on a roof. The most common places are along the roofing valleys, around the chimney, abutting brick work on a flash roof, or where a roof meets the brickwork of the house.
Nowadays there are alternatives to lead flashing such as zinc, aluminium and other synthetic materials. Despite this lead flashing has some unique benefits
Advantages of Lead Flashing
• Time Tested.
• Lead can be Welded to.
• Lead is Malleable.
• Attractive Finish.
Why Choose RJ Evans For Lead Flashing
• Experienced team of fully accredited Lead Flashing Specialists. We have operatives with more than 40 years' experience.
• We provide a range of FREE quotations and solutions for all projects.
• Insurance backed guarantees.
• Excellent Customer Support throughout project.
• Rated 5 out of 5 from our previous customers.
Get In Touch With RJ Evans Today
If you would like a quotation or any information on Lead Flashing please get in touch with us or call us now on 01277 375 511
1