Gutter Lining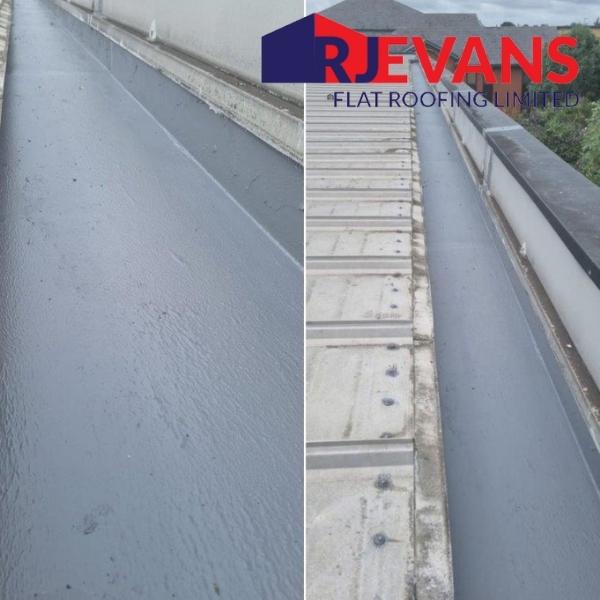 We provide a gutter lining service. If you would like a quotation or any information on gutter lining please get in touch with us or call us now on 01277 375 511.
Gutters are a heavily used part of any roof based purely on what they must deal with. The areas constantly are under stress and attack due to the water being directed there and, in many instances, remaining there. This often means both residential and commercial gutters start to fail before the rest of the roof area.
A cost effective and simple way to extend the life is to do a simple refurbishment. This is often done by applying an EPDM gutter lining or a liquid gutter lining. This means that upon completion there are no open joints that can be attacked. Using a liquid gutter lining will mean existing roof coverings connected to the gutter will be encapsulated. This means any repairs will have a seamless finish. Below is a typical method to re-coat a metal gutter.
Implementing A Gutter Lining System Using A Cold Applied Liquid
• Remove of any loose paint and corrosion by hand grinding
• Ensure the area to be coated is clean and dry
• Tape all joints with butyl tape or coated reinforcement polyester fleece/GFM
• Use sealant to fill any large gaps over 2mm typically.
• Prime area to be coated (a peel test may deem this not required)
• Coat over reinforced joint areas 1.5kg/m2 allow to cure
• Coat the entire area one coat 1.5kg/m2 typically
This normally ensures a ten-year warranty is applicable. The joint areas are the most important as they will move, contract, and expand, so they must be reinforced. To summarise, you have a simple and effective solution, that is maintained, can prove to be very cost effective.
Liquid coating is by far the easiest and fastest solution for gutter refurbishment. It is seamless and therefore offers a solution less likely to fail.
How Much Does Gutter Lining Cost?
Typically, £35 linear metre is based on 300mm/200mm high gutter. You would also have to rely on scaffolding on many occasions. Either way, it is more cost effective than replacing the whole gutter area. The most important consideration for lining gutters is ensuring that the substrate is correctly prepared. This means that cracks and larger gaps must be correctly sealed. Also, moisture in the substrate, especially felt, can also be an issue. It is vital that moisture readings are undertaken. If the readings come back showing high moisture present than splitting the existing substrate is a consideration to allow the moisture out, but more typically the existing covering may have to be removed down to base level before works can commence.
Get In Touch With RJ Evans About Gutter Lining Today
If you would like a quotation or any information about refurbishing commercial or residential gutters with a waterproofing lining, please get in touch with us or call us now on 01277 375 511. One of our friendly team will be happy to help.
1