Flat Roofing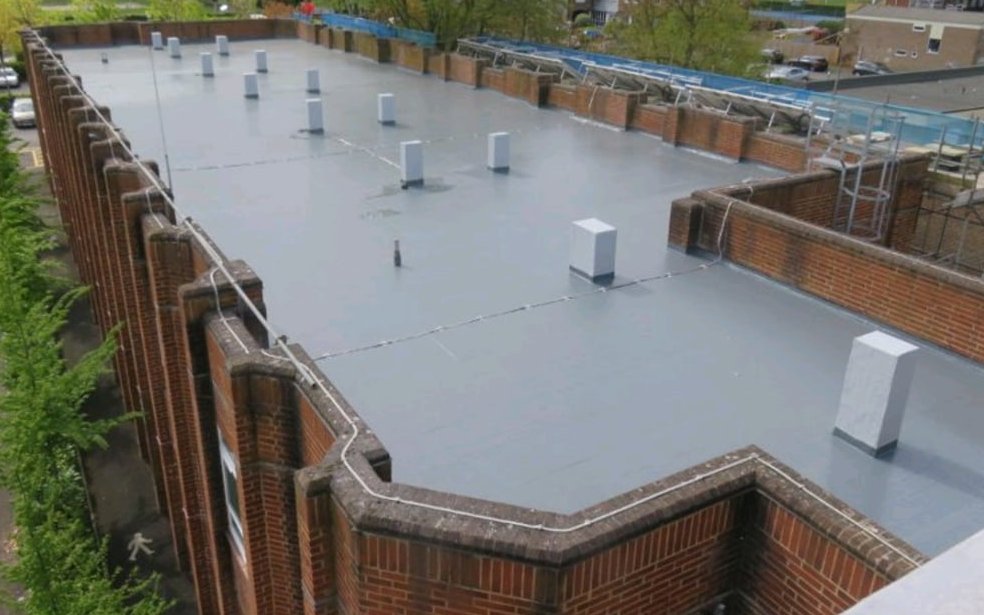 We are one of the UK's leading flat roofing companies. We provide a complete flat roofing service. This includes everything from the installation of new flat roofs to flat roof repairs and flat roof overlays. We are fully accredited in a number of flat roofing systems including GRP, EPDM Rubber, Felt, Liquid and Mastic Asphalt. Our highly-experienced team covers all of London and the South of England, and are fully accredited flat roofing specialists.
If you would like a quotation or any information on flat roofing please get in touch with us or call us now on 01277 375 511.
Flat Roofing Systems We Provide
Liquid Roofing
We provide a range of liquid roofing solutions for flat roofs. Liquid systems provide several advantages. This includes:
• No need for flames as it is cold applied.
• It's a cost-effective option for flat roofs covering a large area.
• The ability to mould around complex detailing and provide a seamless finish.
• Liquid overlays can cost-effectively extend the life of some roofing systems.
In most weather conditions, liquid roofing becomes waterproof within two hours of application. Some systems even become waterproof immediately upon application.
GRP Roofing
We provide a range GRP roofing systems. Some of these systems allow a huge range of colours providing just the finish you want. All our GRP roofing systems come with long insurance backed guaranteed of up to 40 years. The installation of a GRP roofing system is cold applied, safe and straightforward.
Benefits of GRP Flat Roofing:
• Can be used for water containment
• Can overlay existing roofing systems with the correct primer this includes mastic asphalt, RBA (felt) and concrete systems.
• Virtually maintenance free.
• Can be finished with UV Protective Paint.
• Some modern systems like Polyroof have UV protection built in saving labour costs due to saving the need to return to apply UV Protective Paint.
• Available in a range of colours.
Asphalt Roofing
We have a specialist mastic asphalt team with vast experience who can provide asphalt services for flat roofs of all sizes.
The benefits of using Mastic Asphalt as a flat roofing system are:
• It is time tested over decades.
• It is carbon zero rated (by far the best rating of any flat roofing system).
• It is totally recyclable.
• Is ideal for complex detailing.
• Aggregates can be added to provide different properties for the roofs specific requirements.
• IKO Permascreed eliminates the 7 day wait for sand and cement to cure.
• Solar Reflective Paint for decoration and to disperse heat.
EPDM Rubber Roofing
We offer a range of rubber roofing products. And will impartially advise you on which product is suitable for a specific situation. We can do this as we are not affiliated with any single rubber roofing manufacturer.
The benefits of rubber roofing include:
• UV Resistant
• Torch Free application
• Fire Resistant and in some cases self-extinguishing.
• Environmentally friendly when compared to other roofing systems on the market.
Felt Roofing
We offer a number of felt flat roofing systems. These roofing systems cater for simple shed roof repairs to large commercial roof installation. Felt roofing is a reliable roofing system, this is evident from the amount of decades it has been in use for. It is suitable for both domestic and commercial projects.
Why Choose RJ Evans For Flat Roofing
• Experienced team of fully accredited Flat Roofing Specialists. We have operatives with more than 40 years' experience.
• We provide a range of FREE quotations and solutions for all projects.
• Insurance backed guarantees.
• Excellent Customer Support throughout project.
• Rated 5 out of 5 from our previous customers.
Get In Touch With RJ Evans Today
If you would like a quotation or any information on flat roofing please get in touch with us or call us now on 01277 375 511. One of our friendly team of flat roofing experts will be happy to help you.
1