Felt Roofing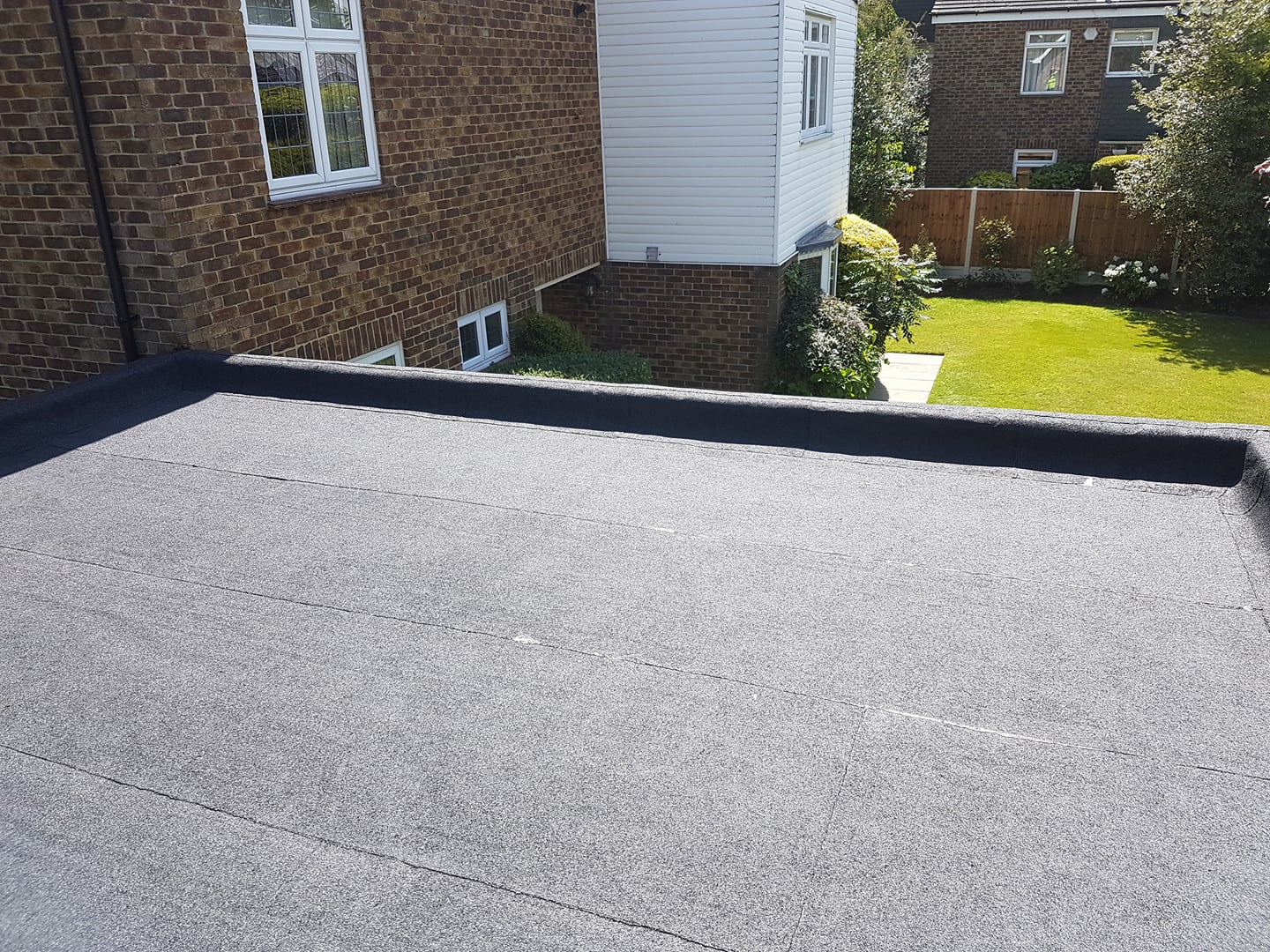 At RJ Evans Flat Roofing Limited we are able to offer a full range of felt roofing services. This includes the installation of new felt roofing and felt repairs. We have a specialist team who conduct works on felt roofs, they cover all of London and the South of England, and are fully accredited roofing specialists.
If you would like a quotation or any information on felt roofing please get in touch with us or call us now on 01277 375 511.
What is Felt Roofing?
Felt roofing is one of the oldest and most commonly used methods of waterproofing properties. Felt is on the most cost effective roofing systems available on the market.
The Advantages Of Felt Roofing
• Felt for roofing is tried and tested. It is common to see this roofing system used on both residential and commercial projects.
• Its ability as an effective material for waterproofing roofs has been proven over many decades.
• It is cost effective and provides great value for money.
Felt is frequently used on both pitched roofs and flat roofs due to it being a roofing system which provides excellent value for money.
However, on a flat roof, felt will have a significantly longer lifespan when compared to a felt system applied to pitched roofing.
How Long Does A Felt Roof Last?
A felt roof can last for between 10 and 20 years. In some cases where the felt roofing is well maintained the lifespan of the roof can exceed 20 years. To maximise the longevity of your felt roof you should have regular roof inspections and call out an accredited roofing specialist if you notice any repairs to the felt are needed. As mentioned above flat roofing felt will last longer in comparison to pitched roofing.
Can You Put New Roof Felt Over Old Roof Felt?
Yes you can put new roof felt over old roof felt. When this is done you should brush all the shingles and debris off of the surface. Then wash the roofing down and fill in any indentations. With smaller roofs it is often better to strip back the roof and start again but on medium to large felt roofs it is normally better or overlay the existing roofing with a new felt system.
Is Roof Felt Waterproof?
Yes roofing felt is waterproof.
What Is The Best Roof Felt?
The best roof felt will depend upon the roof which is being covered and the objective the owner of the roof is trying to achieve. Factors such as the demands the roofing will need to endure and the price range the project has to meet will have to be considered. Once we know these factors the best product to provide a solution can be suggested.
Why Choose RJ Evans For Felt Roofing
Experienced team of fully accredited Felt Roofing Specialists. We have operatives with more than 40 years' experience.
We provide a range of FREE quotations and solutions for all projects.
Insurance backed guarantees.
Excellent Customer Support throughout project.
Rated 5 out of 5 from our previous customers.
Get In Touch With RJ Evans Today
If you would like a quotation or any information on Felt Roofing please get in touch with us or call us now on 01277 375 511.