Felt Roofing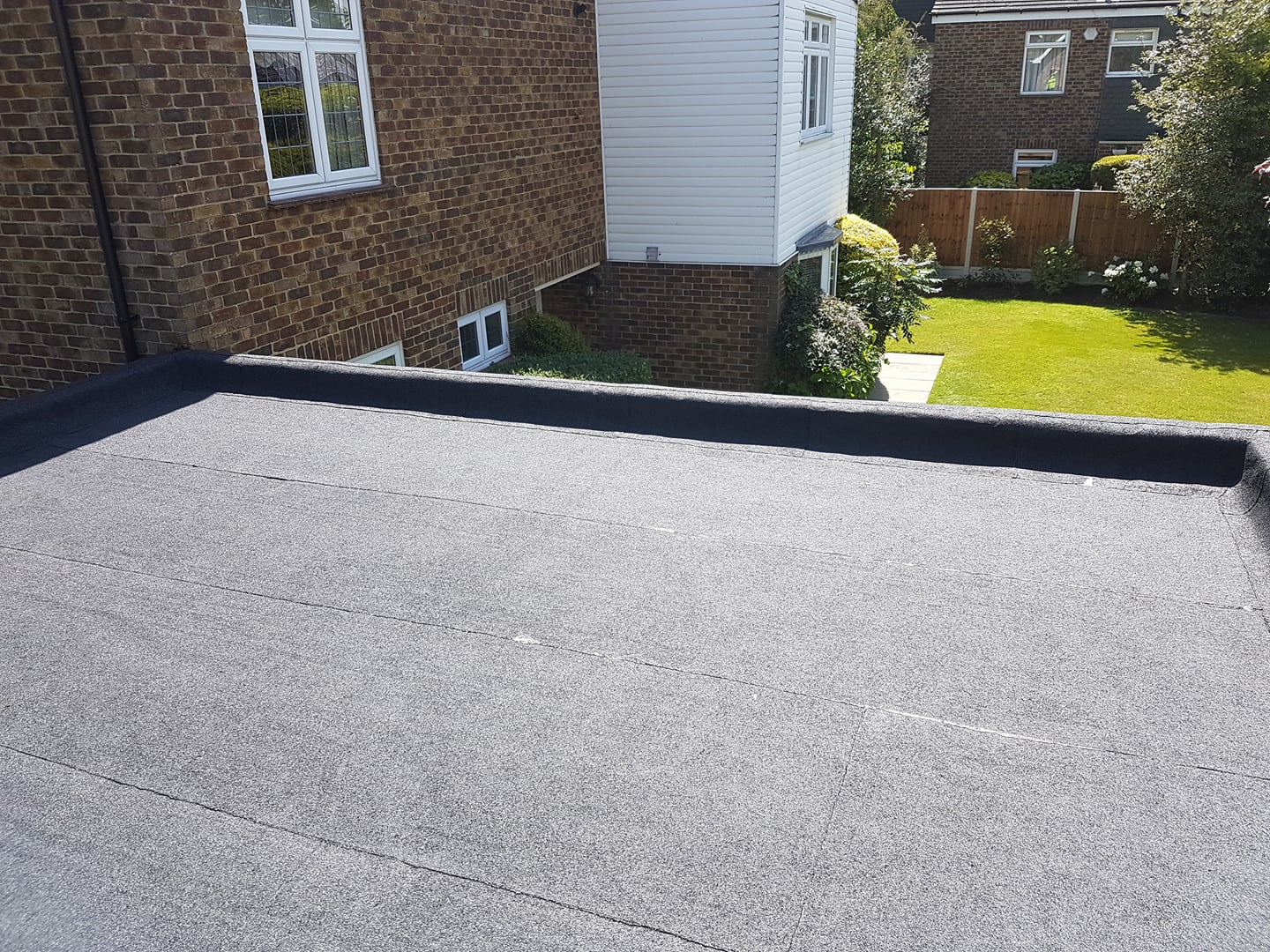 At RJ Evans Flat Roofing Limited we are able to offer a full range of felt roof services. This includes the installation of new felt systems and repairs. We have a specialist team who conduct works on felt roofs, they cover all of London and the South of England, and are fully accredited roofing specialists. If you would like a quotation or any further information please get in touch using our contact form or call us now on 01277 375 511.
What Is Felt Roofing?
Felt is one of the oldest and most commonly used methods of waterproofing properties. It is one of the most cost effective systems available on the market. It can be used to waterproof a range of different buildings. From large commercial premises, to house extensions and sheds. Whether it is shed felt waterproofing or a built up system on large industrial roofing, it is a tried and tested waterproofing solution.
It has been used for over 75 years in the roofing industry. The membrane has altered slightly over the years and nowadays some systems carry a fire rating. It is a product made from bitumen (asphalt or coal-tar pitch) (1). Felt is a traditional flat roofing system. It is very robust when installed correctly. In the UK is remains a popular choice of waterproofing a roof.
How Long Does Roofing Felt Last?
A typical 3 layer system should last for at least 20 years. This is provided that the roof is well maintained. If this is the case, they can last longer. Felt roofs are competitively priced and are a popular option when it comes to flat roof membrane. They are not as attractive visually as liquid coating for example, but are a hard wearing, functional option. If you are refurbishing over an old felt roof you can use a bitumen primer to get a proper fix. Alternatively, the old felt can be removed entirely. Modern felts would offer an upgrade on old bitumen which are often covered with stone chippings. Good quality felt has longer-lasting resistance to UV rays.
What Colours Are Available?
The typical colour is a charcoal grey. But it is versatile when it comes to appearance. Many other colours are available, and these vary from system to system.
Is Felt A Strong System?
A 3-layer torch on felt roof system is durable and if installed correctly should offer good waterproofing for at least 20 years. The first layer is a 3G perforated membrane felt which is loosed lay onto the primed deck. Apply a controlled flame to the underside of the bitumen by heating on the underside of the membrane with a gas torch. The second layer is a sanded underlay. This is torched-on and bonded to the base layer.The top layer is normally a fire rated polyester based mineral cap sheet. This is installed in the same way.
What Are The Main Benefits Of Choosing Roofing Felt?
Some key benefits are its competitive cost and good performance. Roof felt typically is more competitive than many other systems, such as GRP for instance. It's fast to install and can be replaced quickly if needs be. Other key benefits for the installer are its pliability and easy transportation. Felt is pliable and can be easily manipulated. This makes it easier to work with. It comes in roll form and is easily moved around site.
How Is Roofing Felt Installed?
It is normally installed using a blowtorch and care must be taken. Each of the three layers is laid in a half-lap system, so any joint in the roof is as far away as possible from another joint. There should be a noticeable 3mm/5mm bleed at the laps.
First Layer (Vapour control sheet)
The first layer is a 3G perforated membrane that is laid on top of the primed deck. The underside of the membrane is heated by a controlled flame by blowtorch to adhere it to the surface.
Second Layer (Reinforced Felt)
Is a sanded underlay which is torched to bond to the first layer by controlled flame by blowtorch.
Third and Final Layer (Cap sheet With Mineral Finish)
The final layer is normally a fire rated polyester based mineral cap sheet. This sheet can be available in a range of colours.
What Is A Typical Cost Of A Felt Refurbished Roof?
Typically, this depends on the warranty required. Based on a 20-year warranty requirement then prices range from £60/£80m2. If insulation upgrade is required then this can dramatically increase to over £130m2.
What Are The Disadvantages Of Roofing Felt?
• Seams. Any waterproofing with seams offers up a potential weak point. Every lap below is a potential leak waiting to happen. A good alternative to alleviate the risk of water ingress through seams would be to use a liquid system. These are seamless and offer no obvious entry point for water as a consequence.
• Fire risk. Legally there should be fire-watch personnel located on any site installing felt after works are finished to ensure that the roof does not smoulder and begin to burn. Many CDM regulations restrict the use of flame on site (3).
In recent times there has been a decline in the use of felt of modern roof. This is partly to do with Health and Safety and part to do with the increasing quality of alternatives like liquid.
How Long Does A Felt Roof Last?
A felt roof can last for between 10 and 20 years. In some cases where the felt is well maintained the lifespan of the roof can exceed 20 years. To maximise the longevity of your roof you should have regular roof inspections and call out an accredited roofing specialist if you notice any repairs to the felt are needed. As mentioned above felt on a flat roof will last longer in comparison to pitched roofing.
Can You Put New Roof Felt Over Exisitng Roof Felt?
Yes, you can put new roof felt over old roof felt. When this is done you should brush all the shingles and debris off of the surface. Then wash the roof down and fill in any indentations. With smaller roofs it is often better to strip back the roof and start again, an example of this would be shed felt. But on medium to large roofs it is normally better to overlay the existing felt with a new system.
What Is The Best Roof Felt?
The best roof felt will depend upon the roof which is being covered and the objective the owner of the roof is trying to achieve. Factors such as the demands the roof will need to endure and the price range the project has to meet will have to be considered. Once we know these factors the best product to provide a solution can be suggested.
The Advantages Of Using Felt
• It is tried and tested. It is common to see this system used on residential and commercial roofing projects.
• Its ability as an effective material for waterproofing roofs has been proven over many decades.
• It is cost effective and provides great value for money.
• Relatively fast to install.
• Long lifespan (over 25 years)
• Good manufacturer warranties (20 to 30 years)
• Easy to repair
• Using a fire rated top layer offers a good level of fire protection
• It can withstand ponding water
• It is resistant to UV rays, strong winds and rain
Felt is frequently used on both pitched roofs and flat roofs due to it providing excellent value for money. However, on a flat roof, it will have a significantly longer lifespan when compared to when applied to pitched roofs.
Why Choose RJ Evans To Install A Felt System
• Experienced team of fully accredited flat roof specialists. We have operatives with more than 40 years' experience.
• We provide a range of FREE quotations and solutions for all projects.
• Insurance Backed Guarantees.
• Excellent Customer Support throughout project.
• Rated 5 out of 5 from our previous customers.
Get In Touch With RJ Evans Today
If you would like a quotation or any information on felt systems please get in touch with us through our contact form or call us now on 01277 375 511. One of our friendly team of experts will be happy to help.
1