Asphalt Flooring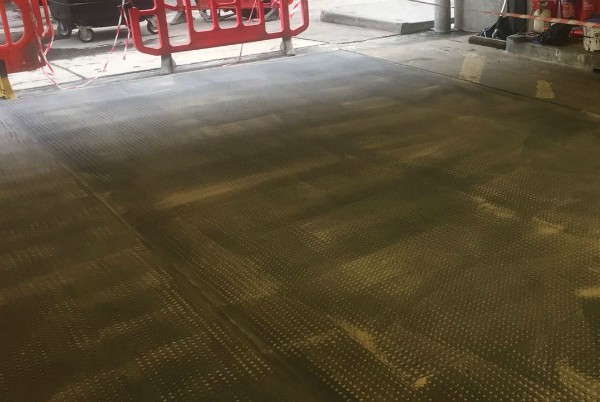 We have a specialist asphalt flooring team. This includes both the installation of new asphalt flooring and repair work to existing asphalt flooring. Our highly-experienced asphalt flooring team covers all of London and the South of England, and are fully accredited asphalt specialists.
If you would like a quotation or any information about asphalt flooring please get in touch with us or call us now on 01277 375 511.
Asphalt Flooring can last longer and outperform almost every other flooring material. Being both highly durable and containing damp proofing properties makes asphalt the flooring material of choice for many specifiers.
The installation of asphalt flooring can be carried extremely quickly using a hot charge process. The asphalt laid upon the substrate cools very fast. Meaning furnishing and carpets can normally be put back into position a few hours after the installation is complete.
This keeps disruption of the building where the asphalt flooring is laid to an absolute minimum.
On our homepage you can see a video of our asphalt team at work on a project at the Tower of London.
Advantages of Asphalt Flooring
• Extremely durable flooring material
• Excellent Damp Proofing Properties
• Suitable to withstand for heavy foot traffic
• Minimum disruption to the building during the installation process
• Carbon Zero Rating
• Has proven itself as a flooring material over many years
• Aggregates can be added to mix for both anti-slip and extra hardness
• Attractive Finish
Why Choose RJ Evans For Asphalt Flooring
We have our own Asphalt Mixer this means a flame free laying of the mastic asphalt. Better consistency in the asphalt mixture meaning a more efficient installation process with a better overall finish.
Vastly experienced asphalt team. We have operatives with more than 40 years' experience.
We provide a range of FREE quotations and solutions for all projects.
Insurance backed Guarantees.
Excellent Customer Support throughout project.
Rated 5 out of 5 from our previous customers.
Get In Touch With RJ Evans Today
If you would like a quotation or any information on Asphalt Flooring please get in touch with us or call us now on 01277 375 511.